A day in the life of a Raider
Michael McGuinness, Reporter
I personally rarely listen to country music, but after listening to Maddie & Tae, I'm becoming a fan. Compared to the country music I have heard on the radio like Taylor... Read More »
February 3, 2016

January 13, 2016

January 8, 2016
View All »
Kailee Zercher, News & Features Editor
Members of the Wylie East chapter of Business Professionals of America set school records Jan. 23 by excelling at the Regional Leadership Conference bringing home... Read More »
February 1, 2016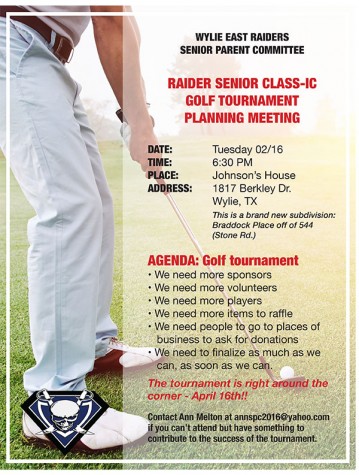 The Raider Senior Class-ic golf tournament planning meeting is Feb. 16 at 6:30 p.m. at 1817 Berkley Drive in Wylie. The committee will meet to plan the April 16 golf... Read More »
January 30, 2016
Recent Features Stories
View All »
Announcements


Senior Golf Tournament
Registration is open for seniors wishing to participate in the Senior Classic Golf Tournament April 16 at Woodbridge Golf Club. On the day of the event, participants check in at noon, Shot Gun Start begins at 1 p.m. and dinner is served at 5 p.m. Muligans tickets are available for $5, limit two. The Cost for players to participate is $7 per person or $20 per team. String is available for $5. Raffle tickets are $5 per person or $20 per team. All proceeds benefit the Parent Teacher Student Association Senior Parent Committee for this year's graduation festivities.

Marquee
See your name in lights! Would you like to 'Shout Out' an encouraging message for everyone to see? Sign Up to use the Wylie East Marquee. Your Message will run continuously from Friday to Friday. Each message costs $20. Proceeds go to the senior class of 2016. To sign up and schedule your Wylie East marquee announcement, contact Dawn Shirley (jdinwylie@verizon.net or (214) 552-6698). Dawn will be in the school cafeteria Nov. 17 during lunch to accept orders. Checks, Cash, or Money Orders. Payment is due at the time of ordering.


Junior Varsity soccer players Kyle Sproul and Emily Mannino spill on their passion for soccer and their positions on the team. photos by Lizzy Jurden... Read More »
View All »
Beast Ballots

Loading ...
Kristin Gooch, Video Editor
Junior Varsity soccer players Kyle Sproul and Emily Mannino spill on their passion for soccer and their positions on the team. photos by Lizzy Jurden and Jamie Tourtillot
February 5, 2016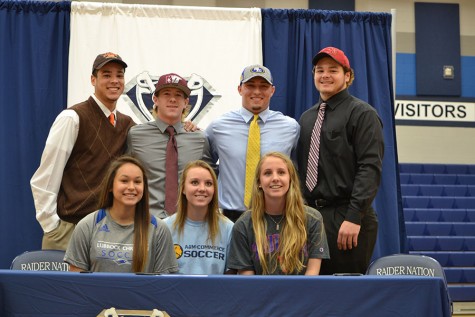 Michael Turner, Contributor
Seven student athletes sign letters of intent High schools' athletic programs were all over the place as they readied... Read More »
February 4, 2016
Jessica Blakeley, Sports Editor
Powerlifting is one of the school sport activities that has grown in members ever since it began. There are now 25 active members in power lifting, 11 are varsity players. The... Read More »
February 4, 2016
Recent Sports Stories
View All »