A valued surprise
Birmingham scholarship winners announced
Every school year, the top 10 students from the senior class are selected to receive the Birmingham Scholarship.
The class of 2020 Birmingham Scholars are seniors: Huong Huynh, Jason Chu, Samara Huckvale, Angela Lamarche, Phillip Mai, Luke Enns, Jaron Harbison, Erika Miller, Daniel Buenostro and Spencer Armstrong.
This year as a result of the COVID-19 pandemic, rather than announcing the award at school, principal Mike Williams surprised students by visiting their homes and presenting the scholarship to them personally.
"I didn't know Mr. Williams was coming to my house," Lamarche said. "It was a complete surprise. I really wanted to shake his hand or give a high five but because of [the coronavirus] we just awkwardly stood there. Luckily, it was also the one day I decided to actually get ready."
To receive the scholarship, students must both be in the top 10 of their class and have taken both the ACT and the SAT. Meaning, students who qualify for the award are the highest performing in their entire class.
"I first learned about the award while skimming through the WISD website," Huynh said. "I thought it was just a dream to be able to qualify and get the award. The qualifications seemed impossible. But as I went through high school, some of the qualifications just checked off. It was never a goal for me since it seemed impossible at first, but now I consider it a reward for going through high school the way I did."
The students developed their own methods of studying and learning to boost their academic performance, which helped their chances of receiving the prestigious scholarship
"I worked really hard to obtain this award," Mai said. "Especially through the many hours of studying for exams. I make various study sets to make my life easier using different resources such as Quizlet and Kahoot. This allows me to make mistakes and learn from them before exams."
With graduation getting closer everyday, the students look forward to what their futures hold. All 10 of the students plan to attend college for the upcoming fall semester, majoring in various different studies.
"My biggest inspiration is my family," Mai said. "Especially my grandparents who left everything behind to live a better life here in the USA. This fall I plan on studying Mechanical Engineering at the University of Texas at Austin, and my biggest motivation is not to let them down."
As of now, the district still plans to celebrate and honor these scholars with a dinner. The district plans to host a Birmingham Scholarship Dinner for the scholars May 20. If permitted to host parents, administration and a special guest are invited.
About the Writer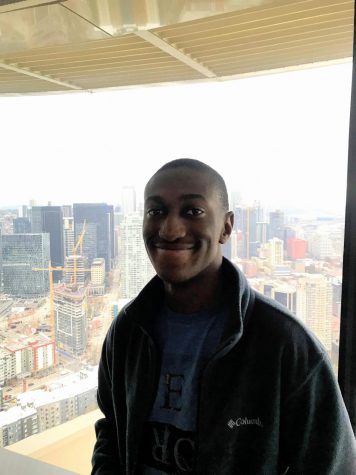 Enoch Olajimi, Sports Editor
My name is Enoch Olajimi, I am a senior and this is my second year on staff. This year as sports editor I plan to write everything sports related. Basketball,...