Sandwich songwriting
Hang on for a minute...we're trying to find some more stories you might like.
Sophomore writes PB&J song, performs at talent show
This year's talent show was full of singing, dancing, poem writing and everything in between. Some acts took the more original route while others did covers, but one act in particular stood out among the rest. With a taste of lyrics such as, "I'm consumed by you when you're consumed by me. You make me crazy, peanut butter and jelly," sophomore Temi George wrote a love song about a food she admits she does not even care for, peanut butter and jelly sandwiches.
"Last year, I came up with a silly little jingle about toast as a joke between some friends and I," George said. "My English teacher at the time overheard me sing it, and later she suggested that I write a song about PB&J sandwiches. So I did."
"
Purple and brown: you make my world go round."
— Lyrics from Peanut Butter and Jelly
Since the talent show is usually comprised of more serious acts, George wanted to try to lighten the mood. She would even be willing to perform it again.
"I got a lot of positive responses," George said. "Everyone seemed to really enjoy it."
This is not George's first time songwriting, however.
"I've been songwriting since I was very young," she said. "It's one of my favorite things to do. Music has always been a big part of my life. I started taking piano lessons when I was 7 and at the age of 12 I began to teach myself how to play the guitar."
Soon after, George learned how to play the ukulele and even dabbles with drums occasionally. With all of this hard work, she does not plan on stopping there.
"I've been writing and recording a bunch of songs in hopes of having a three to four song demo CD out by the end of this year," George said. "My dream is to be a touring singer/songwriter."
The song, "A Love Song (PB&J)" can be found on George's SoundCloud, soundcloud.com/TemiGeorge

About the Writer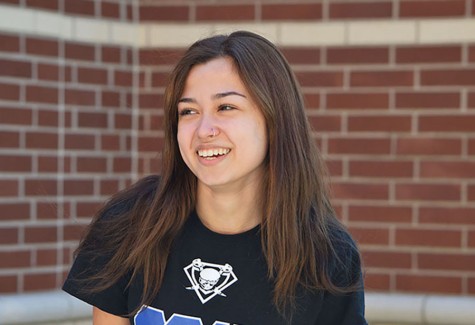 Ash Thomas, Editor in Chief
Ash Thomas. Four time Oscar nominee. Avid sailor. Competitive wrestler. I've been around the world six times and I'm up for Woman of the Year.

Except,...