School's in, spirit's out
Senior Madison Dorethy attempts to make student section viral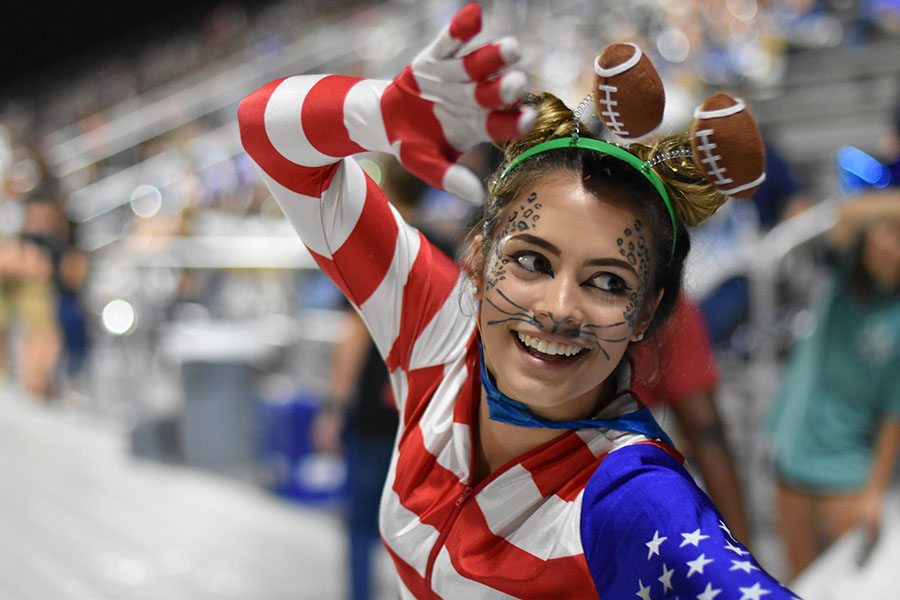 writer: Maddie Smith, Co-Editor-in-Chief & Webmaster
September 12, 2017|228 Views
Her hair is in curls and her makeup is "on point." Her voice is loud and cheerful. She's conducting the crowd, they shout, scream and holler at her command. She's neither cheerleader nor band conductor, only a student athlete wishing for her school to have more school spirit. Senior Madison Dorethy has become the president of the Wylie East student section.
"I just want to see my peers and I have school spirit this year," Dorethy said. "This is my senior year and I want to make the most out of it."
Dorethy, previously a cheerleader, decided to focus on running track this year, but wanted to continue being involved in creating a "spirited" environment around the school.
"I still love being a spirited person, so I decided to do something about it," Dorethy said.
By creating a Twitter account exclusively for the student section and dubbing herself president, she has created more buzz around the school.
Recently, she held an election to find the two most spirited students of each grade (excluding the freshman class) on the newly created account. By allowing the student body to direct message her through the social platform, she was able to narrow down the decision to four students from each grade. From there she created a 24-hour poll, choosing the top two winners to become the new leaders. The sophomore leaders are Reece Wildt and Faith Mathis, and the junior leaders are Elizabeth Stewart and Grace Mathis. The vice president is senior Sasha Elizondo.
"I've always had spirit, ever since freshman year," said Elizondo. "Madison was telling me about this spirit stuff and I said I wanted to get involved, so we became partners."
These leaders meet every Friday during B lunch to discuss what supplies they need for the week, such as signs, cowbells and balloons.
"
This is my senior year and I want to make the most out of it."
— Madison Dorethy
"We will also learn new chants that we will do with the student section," Dorethy said.
Though they are focusing mostly on the varsity football games, they plan to expand the student section support to other sports.
"I want to get more people to other sports besides football, like volleyball, cross country, even tennis," said Elizondo.
Having such high spirits can be taxing at times, but the spirit overseers don't find it very difficult, pulling energy from each other and their surroundings.
"Seeing her [Dorethy] be positive just makes your emotions go higher," said Wildt.
Besides getting the school more involved and having a wider interaction, they've also set one extensive goal they all hope to reach: going viral.
"I see, hopefully, becoming really big and our student section to be widely known," Stewart said.
Each game day, usually Fridays with the occasional Thursday, students may dress in the pre-approved theme of the week. Throughout the day, each leader will pick the most-spirited-dressed in each grade. The winners of this weekly competition will get a picture and their Twitter handle posted on the student section account as a shoutout.
Dorethy plans for this high-spirited student section to continue in future years.
"I will pass down the Twitter account to one of the junior leaders and I hope they do the same," Dorethy said.
About the Contributor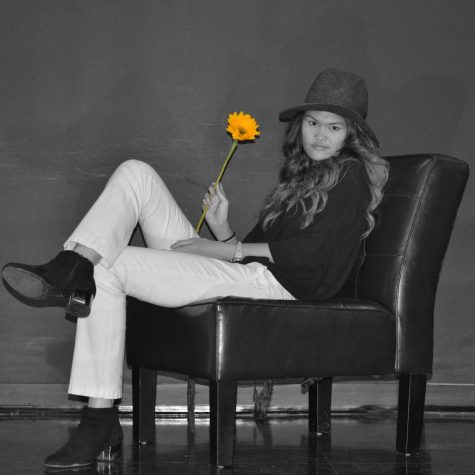 Maddie Smith, Co-Editor-in-Chief & Webmaster
[Insert cute Tumblr quote here]. My name is Maddie Smith and my life goal is to be the sassiest person alive. My sass is expressed in my writing, (terrible)...