Athletes behind masks 
UIL creates new regulations for teams playing during pandemic
More stories from Katie Borchetta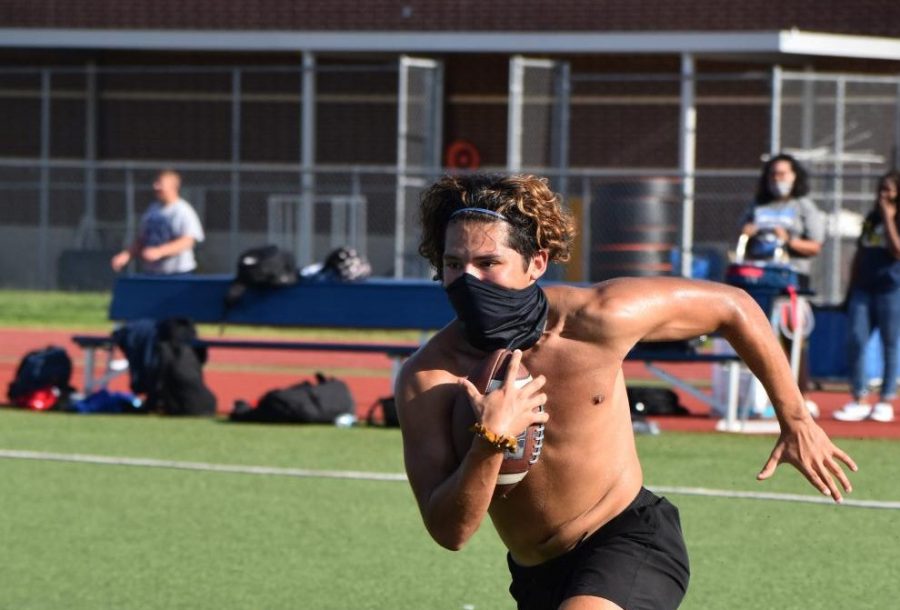 Now that the school has reopened its doors to its students, new restrictions are in effect to help prevent the further spread of the COVID-19 coronavirus.
Administration is trying to return to a state of normality by allowing games to take place in the upcoming future. The new rules put into place for safety make it somewhat difficult for athletes to practice the sports they love.
Fall sports seasons, such as football and volleyball, are delayed to late September. Until then, practices are taking place, but must use social distancing while doing so. Football has to work out wearing masks, but no helmets or pads and separate into small groups rather than practicing as one large united team. UIL rules state that fully-padded practices are also pushed back until Sept. 7.
"Being able to practice is a huge accomplishment already," senior varsity quarterback Cade Adamson said. "I just wish I could play with all of my brothers."
"
Being able to practice is a huge accomplishment already. I just wish I could play with all of my brothers."
— Cade Adamson, senior varsity quarterback
The school's drill team, the Sapphires, is another large group that has faced challenges with these restrictions. Senior Officer Bridget Aaron says that distancing makes it difficult to learn dances and formations. The team must wear masks the entire time and must stay in their 10' by 10' box marked by tape on the floor.
"I just miss being able to be close to my team," Aaron said.
Other regulations in effect for extracurricular activities also include choir students having to wear a face shield and a mask while singing. Band students took an extra measure to allow them to wear masks while playing their instruments.
"We had to cut holes in our masks so we could practice and we had to change our whole show, so we could be more distanced from each other," junior trombone player Braden Nardiello said.
These physical separations may make it difficult to practice as a unified team; however, it is not preventing groups from bonding.
Sophomore cross country runner Morgan Broom says that even though they have to be separated during practice "that does not affect our friendships."
About the Contributor
Katie Borchetta, Staff Reporter
Hey there! My name is Katie Borchetta. I am currently a senior and this is my second year being a part of this newspaper staff. I like to think that I...