The Crimes of Fantastic Beasts
Enchanting for new fans, confusing for old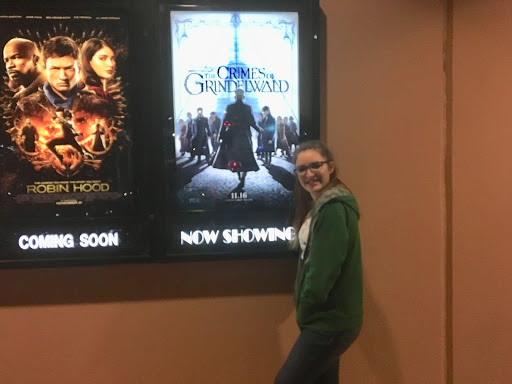 Addie Orr, Co-Editor-in-Chief
November 18, 2018
Hang on for a minute...we're trying to find some more stories you might like.
Armed with little more than head to toe Harry Potter merchandise, vast knowledge of the wizarding world and a kid's size box of popcorn, I took on the opening night to Fantastic Beasts: The Crimes of Grindelwald. Despite my months of anticipation, theorizing and preparation for this movie, I was completely and utterly unprepared for my next delve into this franchise. Surrounded by stunning cinematography and characters both old and new, this movie takes daring risks, with some paying off and others falling flat.
"
Spells flew, magical creatures danced around the screen and the wizarding world opened before my eyes."
— Addie Orr, Copy Editor
Quickly launching after the end of the last movie, the Crimes of Grindelwald takes Newt Scamander and his companions on a journey through London and Paris in an attempt to find Credence Barebone, a young wizard who, in the previous movie, was revealed to contain a deadly obscurus, or a physical manifestation of the pain and abuse from his foster mother. Meanwhile, the dark wizard Grindelwald is seeking out followers for "the greater good," or the rule of wizards, specifically pure-bloods, over the non-magical.
Visually, the film left me reeling. From dynamic overhead shots to realistic perspective shots, the film moved in a way that made it come alive. Spells flew, magical creatures danced around the screen and the wizarding world opened before my eyes. With a mostly Parisian setting, the movie showcased the stunning French magical community through beautiful sets and effects. However, due to the nature of the battles in this movie, it is riddled with flashing lights that can be painful occasionally. If you are sensitive to such things, please be wary. But, as this did not take away from the film, I still say the overall visual effect was fantastic.
Another thing that made this movie stand out was the characterization. Personally, I was most worried going in about the portrayal of Albus Dumbledore by Jude Law, a beloved character played by both Richard Harris and Michael Gambon in the original Harry Potter series. However, as I watched him in the movie, all of my worries were cast aside in favor of glee at seeing the younger version of one of my favorites. Another delightful appearance was an unexpected one from Professor McGonagall. Though it was brief, it gave such a sense of joy to me as a long-time fan of the franchise. Newt Scamander, portrayed by the amazing Eddie Redmayne, was perfectly awkward and lovable. Leta Lestrange, played by Zoë Kravitz, was scene stealing in her dramatic and heroic portrayal. Dan Fogler was hysterical as Jacob Kowalski, Ezra Miller was heart wrenching as the torn Credence Barebone. However, in between these old and new favorites comes three characters who felt wrong. The first of which is Queenie Goldstein, played by Alison Sudol. Queenie, in the first movie is the pink clad, bubbly mind reader who fell for muggle Jacob Kowalski. However, the Crimes of Grindelwald makes this once complex character flat and manipulative and seemingly forgets about her mind reading capabilities unless it is convenient to the plot. Similarly, her sister Tina Goldstein, portrayed by Katherine Waterson, is merely a plot device, a flat love interest for Newt Scamander. And last in the trilogy of flat female characters comes Claudia Kim as the Maledictus, or woman cursed to become a snake, Nagini. As any fan of the series may know, Nagini is the pet snake of Lord Voldemort in the original Harry Potter series. And, besides her very presence as a snake-woman coming as the first of many timeline and consistency issues, she is completely two dimensional, seemingly only there as a prop for Credence.
Also, for any long time fan of the franchise, there are several glaring inconsistencies, particularly with Albus Dumbledore. The first of these being that, in the movie, Dumbledore is explicitly stated to be teaching Defense Against the Dark Arts at Hogwarts, while the books, specifically Harry Potter and the Chamber of Secrets, state that he teaches Transfiguration. Not to mention, the surprise appearance of Professor McGonagall throws a massive wrench in the timeline established by the original series. While to some this may be a minor inconsistency, there are several other drastically more important ones that I will not mention here to avoid spoilers. These issues will probably not make any difference to the casual fan, but for any hardcore fan of the original Harry Potter series, such as myself, this made the movie feel off to me and made me leave the theatre more confused than when I walked in.
Despite its beastly issues, I still greatly enjoyed the movie. With its pleasing overall visuals, excellent characterization and brilliant story, the Crimes of Grindelwald earned its rightful place in the franchise and leaves viewers aching for their next look into the wizarding world in the three remaining movies in the series.

About the Contributors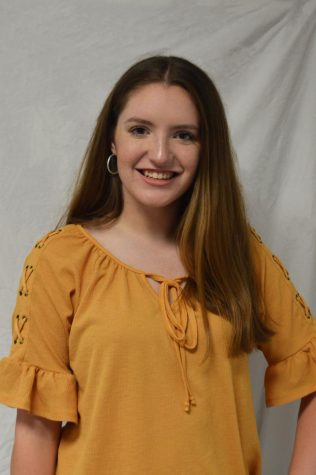 Addie Orr, Editor in Chief
As a senior, yearbook co-editor-in-chief, newspaper editor-in-chief, Sapphire Lieutenant, AP student, and full time fangirl, the words "free time"...