Goating for the win
Fisher wins big at State Fair
Everyone loves the State Fair; the food, the rides and especially the competitions. Senior Colton Fisher is no different; in fact, Fisher won the State Fair's Boer Buck competition for the third year in a row.
"It's an amazing feeling to win for a third time at a state level competition. Especially against hard competitors," Fisher said.
Fisher became interested in goat competitions his freshman year by joining FFA.
"During my freshman year, my dad wanted to try it out when he was an FFA member and prompted me to do it. It's amazing to think about all that's happened since then," Fisher said
Every year Fisher competes with a different goat and builds a special bond with each of them.
"My favorite goat is the one I raised during my second year of competing. I started working with it from the day it was born, all the way to the competition. It was great to see the progress we made as we also built up a strong bond."
"
It's an amazing feeling to win for a third time at a state level competition. Especially against hard competitors."
— Colton Fisher, senior
The competitions work by separating competitors into different age groups and judging the goats by their general appearance, body capacity and its conditioning.
"Competitions are hard. I have to keep my goat in shape before showings and maintain their health. Winning really falls down to how you care for your goat," Fisher said.
Winning the Boer Buck competition is a big deal in the FFA world, the rewards received are beneficial to their competitor's future.
"The biggest reward for me was getting my name out there. It's amazing knowing that my name grabs the attention of other competitors and judges."
After participating in multiple competitions, there is only one thing that Fisher is most proud of.
"Shaking the judges hand after my first win is something I'll never forget," he said. "It's when I realized I finally made it and my hard work had finally paid off."
Although Fisher is extremely proud of his accomplishments, he gives all his credit to the FFA program.
"Being a part of a great program played a big role in my progress. It gave me the opportunity to learn from my mistakes and expand my potential."
The FFA is extremely proud of Fisher, after being with him for four years, the organization has seen much progress from him.
"Colton has grown into a fine young man over these four years. I believe he has worked hard and deserves those three wins," said Tracy Vernon, agricultural science teacher.
Now that Fisher is a senior, his showing career is coming to an end. He is now focusing on bigger things.
"I plan on doing a few open shows before I go to college and major in animal science," Fisher said. "I am really thankful for all the memories made from these experiences and plan on taking them with me to college."
About the Writer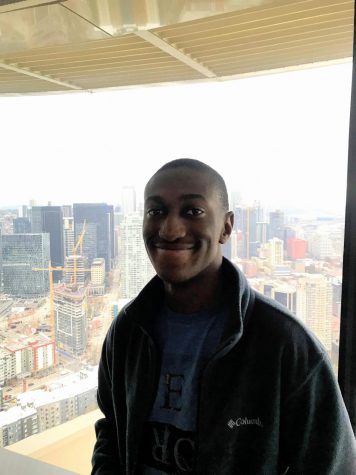 Enoch Olajimi, Sports Editor
My name is Enoch Olajimi, I am a senior and this is my second year on staff. This year as sports editor I plan to write everything sports related. Basketball,...