Running mates
Sisters compete in cross country meets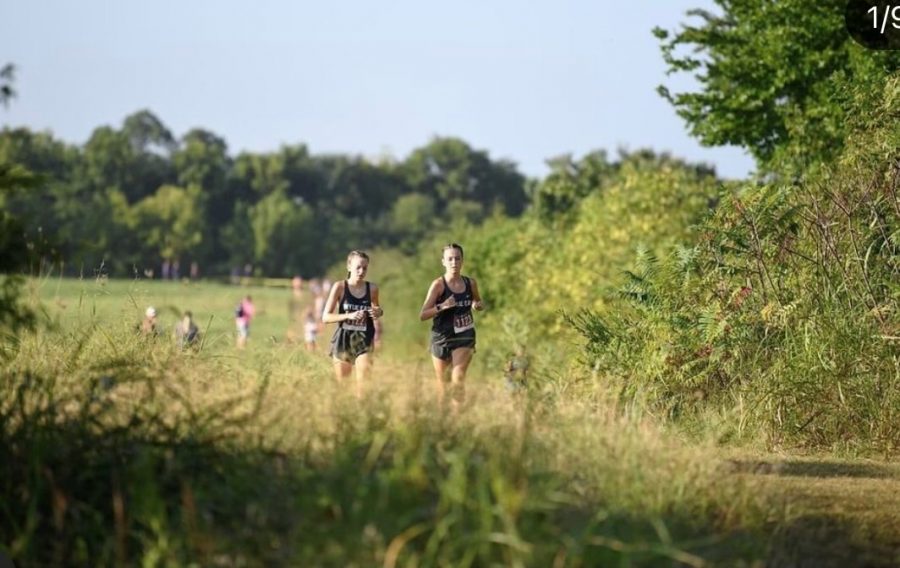 writer: Rylee Keith, journalism student
September 27, 2021
The two girls are woken up at 4 a.m. by the sound of their alarm. They head to the school and get on the line to run. This is how junior Faith Seddig and freshman Evy Seddig's Saturday mornings typically go. 
The two sisters have run cross country for a while and enjoy running together. 
"
I like that we get to practice together because we have the same pace time.
— Faith Seddig, junior
"It's really fun to have a partner to do everything with, but also stressful because you want to beat her," Evy said.
This is Faith's fifth year running and Evy's third. They practice every morning and every afternoon.
"I like that we get to practice together because we have the same pace time," Faith said.
They are both very supportive of each other even if they beat one another.
"Before the Commerce meet, we made a truce that we would have no hard feelings with whoever won," Evy said.
They've had some pretty cool moments from some of their favorite meets.
"My freshman year, we won this big Lovejoy meet which put us on track for regionals," Faith said.
They tend to stick together at meets and make sure they're putting in their best effort.
"We enjoy running together and strategizing people we want to pace with or pass," Faith said.
Both girls run under Coach Justin Eddy.
"Coach Eddy works well with me and my schedule," Evy said.
Faith and Evy get along better than most siblings, but sometimes when one of them beats the other, there can be some tension between the two.
"Cross country has definitely made us closer as siblings, but we know that we will always be there for each other because family is family," Faith said.
Evy placed second at the Wylie Pirate 2 Mile Kickoff and Faith placed first at Commerce. Their next meet is Jesuit XC Classic Oct. 2.