New measures implemented as school resumes
As district reopens; different rules put in place for students' safety
Empty hallways, dots and arrows scattered across the floor.
Barren classrooms, students spread out from one another, not allowed to leave their seats to go talk to their friends.
A deserted, desolate air fills the school, as students quietly mill about, missing friends who aren't with them because they're stuck at home.
As COVID-19 sweeps the nation and schools slowly begin reopening, students are sent back into the classroom with the addition of new rules and procedures to follow. The first day back for the 2020-2021 school year was Aug. 13, with the option to attend school either remotely or on campus.
The student body split nearly 50/50 between the two different forms of learning: 44% of students attend school remotely from home while 56% are on-campus learners.
"It's hard not being able to see my friends," sophomore Mikalah Hodge said. "I miss them a lot and wish they were here."
"
We thought that kids would be the issue, but kids are doing the right things and being safe."
— Mr. Adam Jacobson, associate principal
Teachers switched to a new type of teaching, called simultaneous learning, featuring both types of learners in a single class. On-campus learners are socially distanced within the classroom while remote students attend via Google Meets. However, this decision to offer both forms of learning is not without its drawbacks; teachers were thrust into learning new technology and ways of teaching with little time to prepare.
"The hardest part is that I don't get to hear all my students all the time," English teacher Mrs. Amy May, who is teaching remotely this year, said. "The feedback is so terrible that we have to keep our mics muted all the time. I miss the general noises of the classroom."
Over the summer, new Smart Boards were installed in every classroom, and teachers had a couple of training sessions and watched a few videos on how to use them. Additionally, the school plans on placing ceiling cameras that will automatically follow teachers as they move about the room, to help remote learners. These cameras are supposed to arrive after Labor Day.
"Coming soon are the cameras on the ceilings," Mr. Jacobson said. "They're easy to use but nobody has time to learn."
Currently, remote learners watch via small cameras on teachers' laptops.
"The cameras we use now are small, so everything is hard to see," remote learner Kirstyn Cortez said. "We did a lab in chemistry and it was just too hard to see. Plus, sometimes there's a lag in the video which makes it hard to participate. And it's always 'What if the internet goes out?' and things like that."
For students attending school on campus, it's not the same place as it was in previous years; there are no more club meetings during Power Hour, freshmen and sophomores have had their lunches cut in half to allow more room for social distancing during lunch; freshmen go to freshman seminar during the first half of lunch and sophomores to sophomore study hall during the second.
"Sophomore study hall isn't the best because oftentimes, you don't have enough time to go to tutorials," Hodge said. " Also some people are extremely loud when you are trying to focus."
Furthermore, most activities have been postponed indefinitely. Events such as pep rallies and football games will not look like anything students have seen before, if they happen at all.
"We're still figuring a lot out," Mr. Jacobson said. "We haven't found a safe way to have pep rallies. And football tickets will be very limited."
Despite all of the obstacles in need of overcoming, the school has remained open, unlike schools across the nation that were forced into total remote learning after only a few days back.
"We expected a lot of issues," Mr. Jacobson said. "But it's better than we thought. We thought kids wouldn't be wearing masks. We thought kids wouldn't be social distancing. We thought that kids would be the issue, but kids are doing the right things and being safe."
View Comments (2)
About the Contributor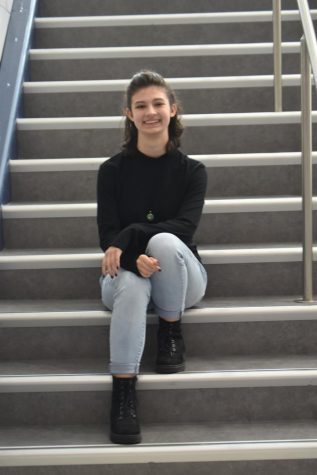 Hannah Hansen, Editor-in-Chief
Hello, everyone! I'm Hannah, this year's Editor-in-Chief. I am a senior, which is both exhilarating and absolutely terrifying. Outside of newspaper,...