Long story short, she's Angela Lamarche
She's a part of almost every club. She's the second of nine children. She believes cereal is a soup. And is the President of National Honor Society.
Long story short, she's Angela Lamarche
Questions:
What extracurricular activities are you involved in?
National Honor Society, Varsity choir, Leo Club, Interact Club, Student Council, Spanish Honor Society and church leadership at the city and area level.
What hobbies do you do outside of school?
If doing more school and being a taxi for my siblings were a hobby then I would say that…but I love singing, being outside, spending time with my family, working out, and watching movies.
What are the 3 things that most people don't know about you?
I don't have a middle name- none of the girls in my family do-so that when we get married our last name becomes our middle name, that way I will always be a Lamarche. There are 11 people in my family: 9 kids born within an 18 year span, all from the same parents and I'm the second oldest. I'm half Canadian. My dad was born and raised there and came to the States as and immigrant for college.
How do you manage to keep up with grades, extracurricular activities, and not losing hair living with 8 other siblings?
All my siblings are crazy, but I honestly love being with them! They probably are the ones that keep me sane and help me enjoy life more than anything. It is a lot of balance and time management to stay on top of everything, but using a planner definitely helps.
What does NHS mean to you, and what made you want to become president?
I love NHS so much! I fell in love with the values they stand for and amazing service they give when I was inducted last year and decided right then I wanted to be more a part of all the planning and behind the scenes that made NHS so prestigious.
What do you plan to do after graduating?
It's been my dream since before I can remember to go to Brigham Young University in Utah. Next fall, I hope to attend there and thanks to AP classes I will have a lot of credit before I even start!
Since your freshman year, how do you feel you have changed up until now?
In every way possible I have improved! Through challenges and struggles I have learned how to become the best version of myself. Most importantly, my ever-growing relationship with God has allowed me to realize who I really am, my purpose in life and what really matters most.
Who has had the biggest influence on you during your years here?
MY MOM! She's my role model and best example of how to live selflessly. She is always there and helps me pick up the slack when I'm too busy to manage everything on my own. She helps remind me that grades and high school are only a small part of this big life so failing a test isn't really the end of the world.
Do you think cereal is a soup? Why or Why not?
I mean if you are technical then I guess because it has the same appearance and consistency, but that's gross to think about.
Which is the correct order? Sock, sock, shoe, shoe? Or Sock, shoe, shock, shoe?
The first one because socks and shoes come in pairs, duh.
About the Contributor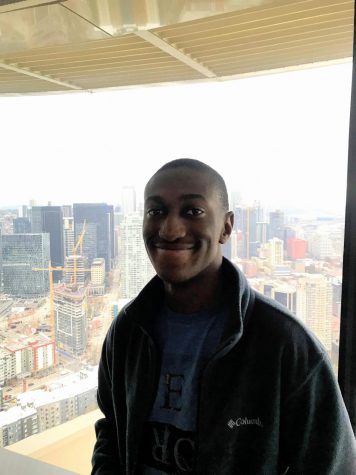 Enoch Olajimi, Sports Editor
My name is Enoch Olajimi, I am a senior and this is my second year on staff. This year as sports editor I plan to write everything sports related. Basketball,...