Baseball team shuts out Pirates 10-0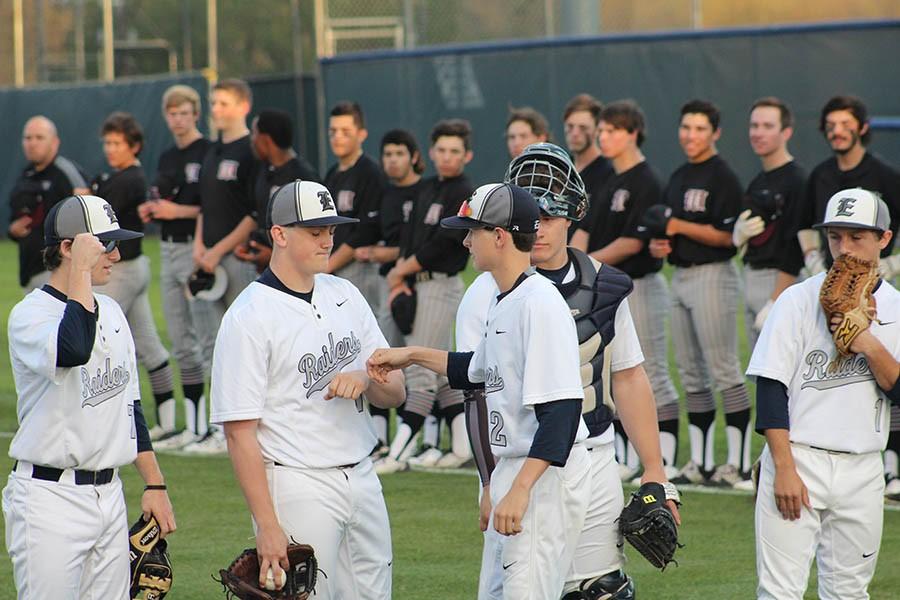 writer: Hunter Nardiello, Contributor
April 11, 2016
The varsity baseball team won their April 2 game against Wylie in the first game against the Pirates. This crosstown showdown determined which one of the city's teams would hold the first spot for district.
"One of the fears I had going into this game was letting down the school," senior Holt Black said. "Not only were there bragging rights at stake, first place in the district race was too."
"
Something special is definitely happening on the diamond this year."
— Holt Black, senior
The team lost their first game the week before in a no-hitter against McKinney North, which made Wylie the only undefeated team in the district.
"We had to refocus from losing the last game," senior Braden Shewmake said. "We couldn't let the last game influence how we played this game."
Last year the varsity team lost their first ever game against their rivals.
"I only remember Wylie beating us pretty bad last year," Black said. "That's the only time that really sticks out to me. It really motivated me to play well in this game."
The varsity team gained momentum midway through the innings.
"The fourth inning was the most important part of the game," junior Hayden Boyd said. "We put seven runs on them giving us a 10 point lead."
The game ended in the fifth inning because of a run rule that ends the game if  a team leads by 10 runs in five innings.
"I was ecstatic at the end of the game when I saw the scoreboard say Wylie East: 10; Wylie High 0," sophomore Justin Smith said. "We have to just keep doing what we are doing."
The team lost 5-4 to the reigning state champs, Prosper, April 8, making the team's record 19-2.
"We are right where we want to be for the season," senior Blake Seagraves said. "We are playing great baseball and we want it all."
The next stop of the season is against Lovejoy April 12.
"We have to continue the momentum at the turn of the district if we want to win the district title," Black said. "Something special is definitely happening on the diamond this year."