When in Orlando…
Hang on for a minute...we're trying to find some more stories you might like.
I've been many places. Branson, Chicago, Monroe, you name it. Yet I've never stepped foot in the infamous Orlando, Florida, until this year. As of Spring break 2018, I can proudly say that I have had the chance to experience the magic of Disney World and that I was able to face my prolonged fear of roller coasters at Universal Studios Orlando. Ever imagine what Florida is like, do I have a story for you.
Day one: Disney's Hollywood Studios
It was just like I imagined! The park was set to look like Hollywood, California and at every turn there was a memory from my childhood, whether it be from Toy Story or Star Wars. I was literally starstruck when I saw the one and only MICKEY AND MINNIE MOUSE THEMSELVES. I didn't earn the chance of a lifetime of meeting them and getting a picture with them; however, the rest of my day was nothing but memorable. The day went like this: I faced my fear of roller coasters on the high-speed Rockin' Roller Coaster, made my stomach drop 199 feet on the Tower of Terror, met my idol Kylo Ren, and embraced my inner child at Toy Story Mania.
WHEN IN DISNEY'S HOLLYWOOD STUDIOS RIDE:
-Rockin' Rollercoaster
-Tower of Terror
-Star Tours
-Toy Story Mania!
Day two: Animal Kingdom and EPCOT
I have always wanted to travel the world. Since the mere age of 4, I have had the desires to see foreign lands, experience new cultures, and treat myself to exotic foods, meeting new people along the way. This day was the day my desires were fulfilled. It all began at Animal Kingdom in Pandora: The World of Avatar. During the beginning of this school year, Mr. Williams had gone, once again, to visit Disney World for the Grand opening of Avatar Flight of Passage May of 2017. He came back boasting about how much in awe he was of the ride and the saying 'Sivako'. I always ignored the hype of it, until I experienced the ride myself. The ride was amazing in so many inexplainable ways! All I can say is you really feel what it is like to be one of the Na'Vi in Pandora, riding on the back of a Banshee! There really is no experience that can be compared to it! If you plan on going to Animal Kingdom anytime soon, ride Flight of Passage because it REALLY is worth the wait of two and a half hours! As for EPCOT, the park was beautiful since we went there when the flower festival was going on. The exotic foods of different countries such as France, Japan, Norway and Morocco were adventurous and delectable. The rides weren't as thrilling as those of Animal Kingdom, but if you have ever desired experiencing what it is like to launch into space to Mars or feel what it is like to soar above the globe, go to EPCOT.
WHEN IN ANIMAL KINGDOM RIDE:
-Avatar Flight of Passage
-Expedition Everest
WHEN IN EPCOT RIDE:
-Mission: SPACE Mars
-Project Tomorrow
Day three: Magic Kingdom
Since I was born, I have been a diehard Disney fan. I had it all. The VHS's, the dresses, the crowns. At any given chance, I would dance around the house in my Belle gown belting Disney melodies until my mom couldn't take it any longer. Let me tell you, I have not changed. I still have the majority of Disney songs memorized and I may or may not have all the Disney movies on DVD… okay, that's an overstatement, but anyway. When the commercials say Disney is magical, they mean it. The overall feel of it all is surreal. You really feel like you have stepped into a wonderland filled with childhood memories that will bring you warm fuzzy feelings of nostalgia. The rides were a downside, though since the whole park is themed for small children who don't often find tall, high-speed rides attractive. Yet, one thing made up for the rides disappointment: the parade. Finally, the reason we came to Florida was happening: The parade down Main Street U.S.A. I confidently put on my Mickey Mouse ears and prepared myself to march alongside my best friends and family down such an iconic street. It was mind-blowingly surreal making my first trip all the more special.
WHEN IN MAGIC KINGDOM RIDE:
-Space Mountain
-Splash Mountain
-Big Thunder Mountain Railroad
Day four: Universal Studios Orlando
The day had finally come. The day I finally embrace my inner adrenaline junkie that has been yearning to come out for years. The day I face the Hollywood Rip Ride Rockit coaster that takes you vertically up 167 feet before dropping you down through high speed loops and sharp turns. Let's just say I was terrified going into it the first time. But, may I ask, would I be writing this if I hadn't survived round one that soon turned into round three? Exactly. The coaster was such a rush, I became addicted after one taste. I couldn't get enough after the first ride! I had to go back, but this time I took it to the next level: THE FRONT ROW. Though dreaded years before, the front row was the only place I wanted to sit after the first toll.
WHEN IN UNIVERSAL STUDIOS ORLANDO RIDE
-Hollywood Rip Ride Rockit
-Revenge of the Mummy
-Escape from Gringotts
Day five: Universal Islands of Adventure
The smell of slightly burnt popcorn, the vision of faraway lands, the exotic sweet taste of Butterbeer. Ahh, Islands of Adventure. Once you step foot into this park, it is hard to step out of it. As soon as you go through the front gates, you are greeted by the tall intimidation that is the Incredible Hulk coaster in Marvel's Super Hero Island and hear the roar of Hulk himself as riders rush up through a tunnel of excitement through endless high-speed loops and turns. My favorite part of this world was the fact that I GOT TO MEET SPIDER-MAN, PETER PARKER HIMSELF. The red of his suit caught my eye and I could not contain my fangirl before getting on his ride. As you travel on through the park, you encounter Toon Lagoon full of nostalgic cartoons from anytime during the 1960s through today. *Insert John Williams beautiful Jurassic Park theme.* *In Richard Attenborough's voice* WELCOME TO JURASSIC PARK. My dreams came true. I was in Steven Spielberg's land of dinosaurs and was nothing but pleased as I walked past raptors and fossils from all species of dino. The Jurassic Park River Adventure, featuring real audio from the film and a variety of animatronic dinosaurs, blasted me back 25 years to Isla Nublar, the site of Jurassic Park. Moving on, you feel the urge to speak in a British accent as you enter the Wizarding World of Harry Potter. The aged-buildings greeted me as my childhood came to life. The best part of this park, besides the delicious taste of Butterbeer, was the Harry Potter and the Forbidden Journey ride. Besides the frightening jump-scares from giant animatronic dementors, the ride took us through a game of Quidditch and a tour of Hogwarts, putting myself into the whimsical world that originated from J.K. Rowling's magical imagination. Continuing our tour, the final part of the park was Seuss Landing. Large Truffula trees from the Lorax tower over your head as you see every bright color possible. The Cat in the Hat was truly an exhilarating ride, inserting me once again into a beautiful world that came from Dr. Seuss' brilliant mind, leaving this amazing trip on the best note possible.
WHEN IN UNIVERSAL ISLANDS OF ADVENTURE RIDE:
-The Incredible Hulk
-The Amazing Adventures of Spider-man
-Jurassic Park River Adventure
-The Cat in the Hat

About the Writer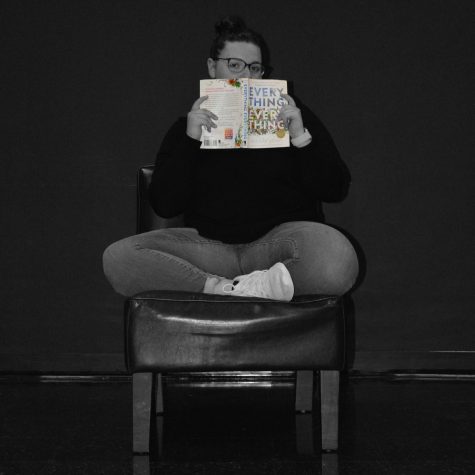 Liz Harkins, Copy Editor
For all the people out there who don't know me, my name's Liz. I'm a clarinet-playing, AP-stressing and Spider-Man (and sometimes Flash) obsessing...