Was IT worth it?
Top 10 reasons why you should "float too"
Hang on for a minute...we're trying to find some more stories you might like.
Film: It (2017)
MPAA Rating: R
Genre: Drama, Horror, Thriller
Bloody balloons, yellow raincoats and eerie sewers. Sounds scary, huh? Not to me at least. Though the acting was quite good, the fear factor was lacking. Being a person who is absolutely terrified of horror, I can say this film would not be worth your "Pennywise", yet as a film fanatic, I would say It is worth a see. Here are the top 10 reasons why you should see It.
Throwback thriller
Most who are interested in this film have seen the original from 1990 with Tim Curry. It is a prime example of how movie magic has progressed over the years and is a perfect way for fans of all ages to experience It again in a different, more enhanced way.
Adaptation accuracy
For those who don't know, It, both the television series and film, was developed from Stephen King's lengthy novel of the same name. The film serves as a funhouse mirror image to the novel and withholds only few differences.
Comedic clowns
Can you even imagine being chased down by a giant clown with a smile as wide as the Nile doing the Carlton? Yeah, pretty funny, I know.
Gore galore
Though the film was made out to be a fearful frenzy for horror seekers, you could tell the blood was fake. But hear me out: there were some scenes where I legit thought the characters were bleeding out and holding on for dear life. Bravo, New Line Cinema Studios.
Astonishing actors
From Bill, to Bev to Pennywise himself, the acting in this film burst my balloon. The actors embraced their characters in ways you could never think of. For example, Bill Skarsgård, the face behind Pennywise, would think of ideas such as "what is the most horrific persona I could be right now?" to get into character.
Crazy, creative, captivating
It was one of the biggest movies on the market this year for all the good reasons. The film brought in over $123.4 million in ticket sales.
Romance factor
We could all tell (or at least will tell) that Bev and Bill were more than just friends. Their small glances and flirty smiles didn't fool many and sure won't fool you.
Wow factor writing
The script is magnificent and very well-written. The writers knew just what they were doing with this film and trust me, you will see it.
Terror-ifoc for thrill seekers
Though It wasn't necessarily the best horror film, it was amazing in the thrill department. The shrill screams, dark tones and eerie scenes were enough to spite any degree of thriller fan.3010
Priceless punchlines
The actors 100 percent fulfilled the role of comedic genius when creating this film. There were jokes left and right that will leave you rolling on the floor.

About the Writer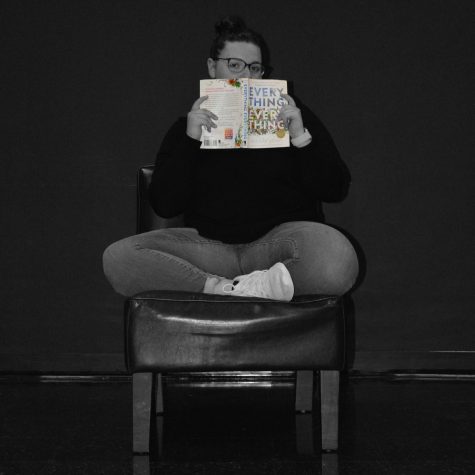 Liz Harkins, Staff Reporter
For all the people out there who don't know me, my name's Liz. I'm a clarinet-playing, AP-stressing and Spider-Man (and sometimes Flash) obsessing teenager who just so happens to say "my pleasure" an awful lot. My family is my everything, and my older sister is my best friend that I would, honestly, take a bullet for. I'm enamored with journalism and hope to be the new Peter Parker or Iris West-Allen of print journalism in New York City sometime in my future, once I'm older and wiser. I have been working for Chick-fil-a for the past six months, absolutely loving every second there. No longer does my bank account send me low balance alerts everyday, instead, they mistake my extravagant purchases for fraud. I love having a positive attitude and hate to see people down. Clarinet is my passion and I never hesitate to participate in any band or leadership affiliated activity. I hope you've had an amazing day and if you're so bugged about me saying "my pleasure," don't thank me.