Seussical the Musical: Oh, a place you should go!
Hang on for a minute...we're trying to find some more stories you might like.
Dressed-up crew and staff everywhere you turn, lively decorations and props popping off of the stage and into real life makes walking into the auditorium before a showing of Seussical much like walking into one of Dr. Seuss' actual books.
The perfectly casted musical features characters from every corner of Dr. Seuss' imagination. There is the return of some of our favorites such as The Grinch and the tale of Green Eggs and Ham, but there are also new scenes, characters and plot twists that we have never seen before!
The vibrant personalities of both the characters and the real-life cast members were highlighted by show-stealer senior Tanner Smithson, Cat in the Hat turned narrator who leads a young boy through the journey of the play. The delightfully charming voice and characterization of said boy, JoJo the Who, was by freshman Carissa Thatcher, who did an incredible job relating the story to the audience.
The show opens with JoJo and Cat in the Hat, followed by a cast performance of Oh, The Thinks You Can Think. Only the brightest, happiest colors were allowed as part of the set and costume, true to Seuss form. In fact, the entire set looked as if it was a page torn from a Dr. Suess book, and it made me nostalgic in the best way.
Seussical does not have just one central plotline, but rather several different stories that find themselves intertwined with one another. There's the story that most know of how Horton heard the Whos on the tiny speck of dust. Along with that is the sad tale of tiny-tailed, endlessly endearing Gertrude McFuzz, played by senior Ellie Jurden, a story that offers romance and the discovery and acceptance of one's self. A personal favorite character of mine was Mr. Mayor, played by senior Grant Peterson, who effortlessly transformed into his character before the eyes of the audience and his fellow Whos in a time of crisis.
One attribute very unique to the show: the amount of audience interaction. Thing One and Two ran amuck around the auditorium before, during and after the show. Dancers turned, twisted and tumbled through the walkways during musical numbers, and even some teachers found themselves running from rascals. This inclusion of the audience made us feel like we were a part of the show, living with these characters in their world. It was wonderful to see it come to life in such a special way.
Best musical performance and characterized attitude of the night goes to Mayzie LaBird, played by senior Libby Villegas. I've had Amayzing Mayzie stuck in my head since her performance.
It was obvious how much this performance meant to the cast and crew; the actors put their entire soul into their performance. The chemistry between the cast was an unstoppable force. It was easy to see that they had become a true family throughout the process of putting on this show. Director Andrea Farnham's passion for theater shines through her students as they perform.
The show ended with a performance by the complete cast. Oh, the thinks you can think when you think about Seuss. If you're fan of Dr. Seuss, musicals, or happiness in general, this play is one to see! Two performances remain Friday, Jan. 30 at 7 p.m. and Saturday, Jan. 31 at 2 p.m.

About the Writer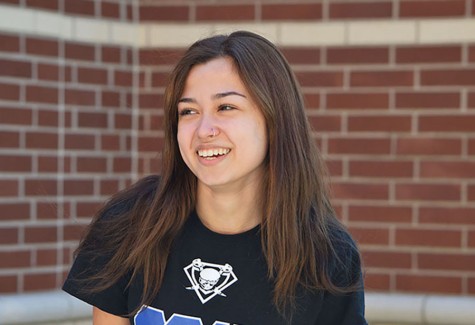 Ash Thomas, Editor in Chief
Ash Thomas. Four time Oscar nominee. Avid sailor. Competitive wrestler. I've been around the world six times and I'm up for Woman of the Year.
Except, not. Do I look like I could be a wrestler? Although I haven't had the opportunity to do everything listed above, I have been given the honor of being Editor in Chief to the best high school newspaper in the world. This is my third (and sadly, last) year on staff and I am thrilled for the upcoming year. Outside of newspaper, I spend most of my time with my kitten, Adaline, who I adore as if she was my actual child, and my friends who I consider my most prized possessions. I'm dedicated to making this year one to remember both in school and out.