Look good on paper
Jostens Look Book recognizes yearbook staff
The 2019-2020 yearbook staff has been recognized, yet again, for their hard work in creating the yearbook. The cover of the book, "Peak," was displayed in the 2020 Jostens Look Book.
The Look Book is a collection of exceptional photos, creative yearbook spreads, and interesting and new designs that display the "best of the best" yearbooks throughout the country.
"
We killed it last year! I'm extremely proud of my yearbook staff and I'm glad our work is getting acknowledged."
— Addie Orr, 2020 co-editor in chief
The yearbook's cover and theme "Peak" were placed into the Look Book revealing its screened oatmeal color material and gold foil in the wording designed by Editors-in-Chief, Addie Orr and Lauren Vasquez early on in last school year. 
These two girls worked hard under the advisory of Mrs. Casi Thedford and led their yearbook staff to success despite facing the many challenges of the COVID-19 coronavirus, one of them being a shortened school year. 
While making it into the Look Book is a great achievement, it is nothing the staff hasn't seen before. Out of the past 13 books the school has produced, 11 of them have been recognized in the Look Book for the staff's exceptional work. 
"Each year when we are notified that our book was selected out of thousands across the nation to be included, it's like a new honor all over again," Mrs. Thedford said. 
Expert team members at Jostens selected 460 yearbooks out of 1,200 that were submitted. The Look Books are sent out to 11,00 different high schools across the country, for yearbook classes to take inspiration and admire the good work of other schools.
"When I received the text from Mrs. Thedford about our cover being in the Look Book, I was so proud! We worked so hard on our cover and went back and forth between many different ideas and designs," Vasquez said. 
Mrs. Thedford and her yearbook staff received a copy of the Look Book and a banner from Jostens to recognize their accomplishment.
"We killed it last year! I'm extremely proud of my yearbook staff and I'm glad our work is getting acknowledged," Orr said.
About the Contributors
Katie Borchetta, Staff Reporter
Hey there! My name is Katie Borchetta. I am currently a senior and this is my second year being a part of this newspaper staff. I like to think that I...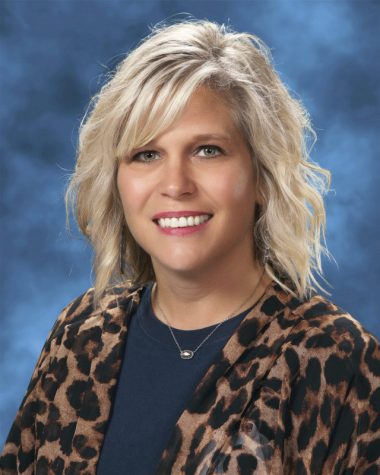 Casi Thedford, Adviser
Heads and tales
I teach my students all the workings of running news publications. This website allows us to showcase all the different journalistic styles...