Artists receive medals at state competition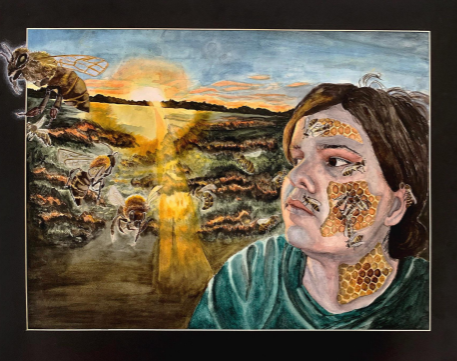 These past few months have no doubt caused immense stress and anxiety for all. On top of the fear surrounding COVID-19, students faced an unexpected letdown as trips and events of all kinds were canceled for the rest of the school year.
While no one can deny that these cancellations gave rise to immeasurable disappointment, there are still things to celebrate during this troubling time.
Ten students participating in the UIL State Art competition were awarded medals for their stunning submissions to the Visual Arts Scholastic Event, better known as VASE.
The students' art took a long journey as they first brought their work to Rowlett High School Feb. 8 for evaluation at a regional level where their pieces received a rating between one and four, four being the highest. Art that received a four advanced to area judging, which was held at the end of the meet. Then, the artwork placing in the top 10% of each division (level) of the area qualifiers were selected to advance to the state event.
"I was ecstatic about when I found out I was a state medalist," sophomore Kayla Nguyen said. "All the blood, sweat, and tears I put into my art paid off in the end."
To these students, making state meant that they would have the opportunity to travel down to San Marcos for the state competition and receive a rating from one to five. As the judging goes on, students would view their pieces in an exhibit alongside some of the best art Texas high schoolers had to offer.
However, in light of recent events, this trip was cancelled; the pieces were judged electronically instead.
As it turns out the results from the UIL State Art competition wipes out the sense of dismay following the cancelled San Marcos trip. Ten students whose art made it to the final stage of the competition received a total of 11 medals altogether.
The following students earned medals for their artwork at the state competition:
In division 1, freshman Abigail Woodard, freshman Gracelin Roper and freshman Riley Brower.
In division 2, sophomore Kylie Macias, sophomore Kayla Nguyen and sophomore Allison Wert.
In division 3, junior Addie Phillips.
In division 4, senior Zachary Clore, senior Alexandria Branch and senior Katelyn Farris, who received two medals at State VASE.
In addition to these medals, Phillips was awarded the top honor of Gold Seal for her "light painting" photograph. Only 7% of works that medal at the state VASE event are chosen for the Gold Seal.
"When I woke up to a message from my teacher about getting the gold seal award, I was so excited. At first I was just yelling in shock, and then I cried. It felt really surreal and like it didn't happen," Phillips said.
Each of the artists put passion and detail into his or her work. Despite all that's been going on in the wake of the pandemic, this news brought a bit of joy to the winners.
"Art is a beautiful way to express emotions and dreams," Nguyen said. "It's not limited to a pencil and paper because it's witnessed everywhere around the world and in our daily life. Art gives me the power to transform the little things I observe in life into something so much more."