Childhood to adulthood
Miss Cheng's journey from Taiwan to the United States
Hang on for a minute...we're trying to find some more stories you might like.
The story of her life is a complex one, with some twists and turns. Growing up in Taiwan, then traveling around at such a young age, mathematics teacher Pauline Cheng has an uncommon childhood that led her to who she is today, while also leaving an authentic touch on each of her students.
"When I was growing up, [Taiwan] was still trying to rebuild, so it's not a very rich place to go," Miss Cheng said. "The apartments where we lived, we could see the mountains. Then, the urban development removed the mountains, and the government built more buildings – countryside to suburban. In elementary school, I had to walk across the farmland, then [in] junior high all the farmland disappeared, it was developed."
With the growing population in Taiwan, due to migrants coming from the midland, the government started replacing the farmlands with more infrastructures around the already small islands, which is when her father had acquired an apartment for their family to live. Miss Cheng is the middle child between her younger brother and older sister.
"My father was a military doctor, so when I was very young, pre-elementary, we lived in [a] military village, since Taiwan is so small," Miss Cheng said. "After the Vietnam War, my father had some money to buy an apartment in the countryside then it later became suburb."
The emergency drills are very different in Taiwan since the government prepares the students to be ready for war. The elementary schools in Taiwan's emergency practices learned how to hide from intruders. In middle school, they learn to grab something to defend off an intruder. In high school, it was mandatory to take nursing and ROTC types of classes.
"If you didn't pass nursing and ROTC courses, you automatically flunk and have to redo that grade level," Miss Cheng said.
In Taiwan, the students in elementary school are required to be good in every sport. The national sport in Taiwan was, and still is, baseball. The really talented athletes in baseball went to a separate, special school. In middle school, Miss Cheng's coach told her she was too short to play basketball, so she played more volleyball and a little soccer.
"I personally don't like sports," Miss Cheng said. "I like music. I sang pretty well."
After the Vietnam War, Miss Cheng's father knew it was time to leave their home. At the time, Taiwan was trying to prevent Communist China from invading, so it was a military time; the government wouldn't let her father go because they would have needed all the doctors if there was a war. Their president allowed tourist visas. So in 1980, her family left the country. They had to get the tourist visas separately, so the government couldn't find out their entire family was leaving the country, since there was a chance their visas would have been withheld.
"My father chose Bolivia because of the oil crisis in the Middle East," Miss Cheng said. "He felt that World War III was going to start, and the Middle East was going to use [a] nuclear bomb so the southern hemisphere would not be affected."
Miss Cheng learned multiple languages after traveling from one country to another. Her primary language is Mandarin Chinese. However, she speaks English well, a little bit of Spanish, and French, which she says is almost gone. She learned all of these languages because of living in foreign countries. She had to adapt to the environment by learning the native language to communicate with others.
"When I was taking French class in Bolivia, it required two years of foreign language and Spanish was their native language, so it couldn't be counted, so we had to take French," Miss Cheng said. "We had a real French lady who only spoke French. Some of us didn't know Spanish or English very much, so we had students who spoke Spanish translate to English, then some Chinese who could translate English to Chinese."
Cheng underwent peer pressure just like other teenagers her age. Her parents encouraged her to drink and smoke along with them since her father as opposed to ding it without him; he wanted to supervise. However, Miss Cheng found ways around the restrictions her parents set for her.
"I stole one of my dad's pack of cigarettes and I hid them inside my doll's stomach," Miss Cheng said. "I would smoke them at night, but my brother, on the top bunk, questioned why he smelled cigarette smoke, and I would put it out quickly."
Miss Cheng moved to the United States after receiving a four-year college scholarship in 1986.
She has lived in four different states: New Hampshire, New York, Maine then Texas. She went to Keene State College in New Hampshire for four years for her undergrad. Then, she went to University of Maine in ME for two years for her first Master's Program. She has a Bachelor's Degree in Mathematics along with Applied Computer Science and a Master's Degree in Computer Education and Cognitive Science.
"I was trained to be a programmer but they had a very unfair practice against women; I was [of the] minority women," Miss Cheng said.
Miss Cheng has been a high school math teacher for 20+ years. She has taught almost every math subject except Statistics. She has also taught high school computer science for three years.
Former student Cari Reinert, who now attends Texas Academy of Mathematics and Science college in Denton, talks about the impact Miss Cheng left on her.
"Although at the time, I didn't appreciate the workload and the intensity of her class," Reinert said.
"I am grateful now… it truly prepared me for college. Miss Cheng doesn't care about passing you through arbitrary tests; she cares about teaching you real math."
Once school starts, Miss Cheng 'lives' at school. She wakes up bright and early to get to the school before anyone else. Once school is over, she is normally the last one to leave. She is at the school grading, preparing her lessons, tutoring and reteaching herself some of the math concepts.
"Idealistically: [I] arrive at Wylie East before 5 a.m. and leave at 6 p.m.," Miss Cheng said. "Realistically: check my car in the parking lot."
Miss Cheng's family and friends did not support her to become a teacher because of the poor stories they heard on the news. They thought that becoming a teacher wasn't the greatest career path for her."It was God's calling," Miss Cheng said. "Everyone [friends and family] discouraged me [from] becoming a teacher. They thought I was wasting my time."
Miss Cheng is all about doing what is best for her students. She puts in an enormous amount of work every single day of the school year–more than any other teacher.
"You cannot take it [teaching] lightly you have to really think about the teacher that God wants you to be," Miss Cheng said.
Miss Cheng accomplishes different activities that are not school-related during the little spare time she has.
"I watch $1 movies on Tuesdays," Miss Cheng said. "[I] play computer games on Facebook and watch Chinese episodes with my mom."
A fellow coworker and friend, Journalism Teacher Casi Thedford, has taught with Miss Cheng for several years. She explains Miss Cheng's goal as a teacher.
"Miss Cheng dedicates her life to her students," Mrs. Thedford said. "She truly wants to see them succeed, not only in the classroom but in all facets of their lives. She attends games, and other school activities weekly. I recall a memorable student quote in a story in the yearbook. After explaining his respect for her as a dedicated teacher, the athlete said, 'I think she comes to the game to make sure that we do our homework!'"

About the Contributors
Cheyanne Voelker, Copy Editor
Hi, I'm Cheyanne. Although I am quiet most of the time, I am always talking a lot in my head. People tend to underestimate quiet people. No, I am not...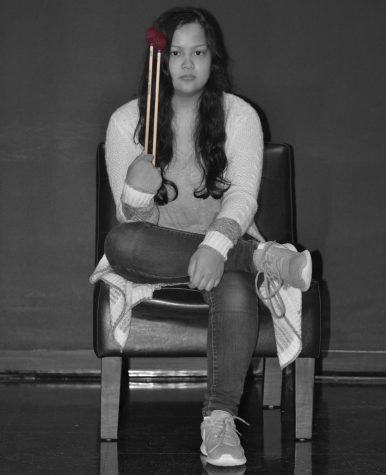 Zoe Villegas, Staff Reporter
If you've ever stopped and questioned your own intelligence, you're probably fine. Truly stupid people don't have that awareness. Hey! My name is...