School reacts to new president
In 2012, 484,072 people immigrated to the United States, according to migrationpolicy.org.
In 2017, 98,562 babies were aborted, according to numberofabortions.com.
The new head of state, President Donald Trump, is seeking to change these numbers, and he is working everyday to do so.
Since being inaugurated, President Trump has already issued multiple controversial executive orders, causing students and teachers to question his actions.
Immigration
In his first days as president, Trump signed executive orders on immigration, commencing the building of the 1,900 mile wall on the U.S.-Mexican border.
"
There are many reasons for immigrants to come into our country. However, if a person enters the US illegally and commits a felony, it's like they got caught cheating on a test, which you shouldn't have done in the first place."
— Mrs. Samantha Smith, AP World History teacher
"I think a wall has a lot of symbolism with it and it's going to create a negative connotation between America and Mexico," freshman Brenna Reyes said. "Immigrants coming over illegally should be sent back but still treated with kindness."
Some people believe the money that will be spent on the wall will be better spent somewhere else.
"A wall of sorts already exists on the US – Mexican border, so the money that would be spent on the building of a new wall would be better spent on improving Education and or implementing programs that are focused on taking care of our Veterans," AP World History Teacher Mrs. Samantha Smith said.
Other students share a similar opinion, thinking illegal immigrants should be deported, arguing that they should have never illegally come across the border in the first place.
"We need to send a message, if we have laws, rules, you cannot ask for the right to come into this country," junior Joshua Beauchamp said.
Some people feel safer because of President Trump's added border security.
"As a Texan, I feel like they should be able to come in, but they need to go through the process," AP human geography teacher Mrs. Kathleen Carver said.
However, some students feel differently, and say the president's actions are perfectly reasonable, thinking the country needs to be fixed.
Keystone XL Pipeline
Recently, President Trump urged TransCanada to resubmit its application for the Keystone XL Pipeline, which is a 1,179 mile oil pipeline that comes directly from Canada, and is prophesied to be the future of American energy, according to bbc.com.
It has come up in controversy due to the risks to the land and surrounding communities.
"Just because we have the natural resources doesn't mean we have to use them. We should evaluate the harm that it's going to do as a whole to the environment, to the people, to the communities. We have to see which one, economy or environment, outweighs," Mrs. Smith said.
Some students and teachers agree that the country should be less focused on a new oil pipeline, and look for new renewable energy sources.
"I think, at this point, no money should go to oil, but to other alternative forms of energy," Mrs. Carver said. "I know rejecting oil and moving to more renewable energy will be expensive, but I'm willing to pay for it."
Funding of Abortion
Another controversial action President Trump has taken is to reinstate President Reagan's "global gag rule", which stipulates that international organizations receiving U.S. family planning funding cannot discuss or educate on the need to make safe abortion available, provide legal abortion services, or provide advice on where to get an abortion.
"These babies aren't getting these rights. Because Trump is stopping this and is not supporting those who support abortion, he is sending a message by not funding them," Beauchamp said.
On the other hand, some wish to cut funding to only part of planned parenthood organizations.
"I am not a fan of cutting total funding because they provide many prenatal doctors and services, but I wish there was a way to only stop the funding to the abortion part," Mrs. Carver said.
Some also believe this to be a violation of constitutional rights.
"We have a constitutional right saying we can talk about what we want. And this is taking away that right. Raising a child is expensive, and not getting an abortion in some situations is screwing over the child." said Reyes. "I bet if men could get pregnant, they'd switch sides in a heartbeat."
Despite all these changes, the students and teachers remain hopeful.
"We are about to walk into this future," said Beauchamp. "I got interested in politics because it affects all of our futures. A lot of us are going to be able to vote in 2018 and 2020. We have to be informed and know what we are going to be walking into. It's about our future.
About the Contributor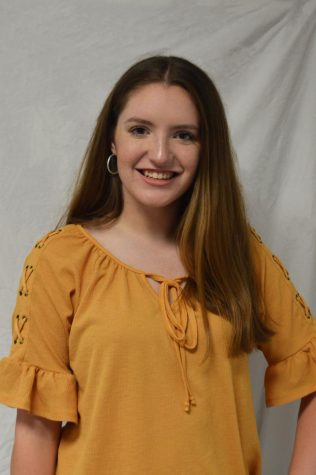 Addie Orr, Editor in Chief
As a senior, yearbook co-editor-in-chief, newspaper editor-in-chief, Sapphire Lieutenant, AP student, and full time fangirl, the words "free time"...