Escaping the real world
Students find ways to experience world without leaving their seats
Hang on for a minute...we're trying to find some more stories you might like.
Being able to travel to another place that is anywhere but here without actually moving has become more of a reality.
"I preordered the Galaxy S7 Edge and just randomly they sent me the virtual reality goggles," senior Timothy Fry said. "I think they are a must have."
The goggles offer a variety of activities such as kids' games, horror games and the ability to watch movies.
"There was this horror reality game that I played," senior Cooper Strait said. "With dolls everywhere and the lights would turn off and come back on just like that."
One horror game that is similar to the movie The Conjuring changes every time it is played through; it allows the user to get the feeling of being scared every time.
"At one point there was this really creepy girl behind me and she was simply swaying back and forth," Strait said. "I looked away for one second and she was gone, then when I turned back around she was running straight at me."
With many types of virtual reality goggles, there is always one brand that is less expensive than another. The goggles can range from $16.99 to $3000.
"My parents got me Google Cardboard for Christmas," sophomore John Salcido said. "I've done a lot of scary games but there's also a discovery app that allows you to look at wild animals."
A variety of things can be experienced without even leaving your seat.
"The downside is that you don't really get to see it in real life," Salcido said. "Technology is really taking away from real life experiences."

About the Writer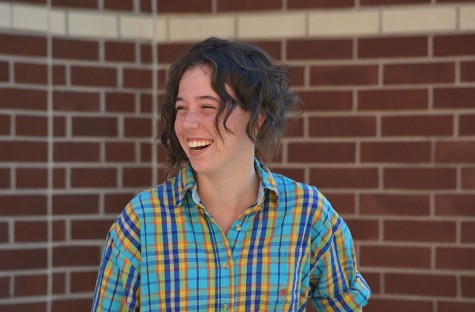 Allie Dorsey, Staff Reporter
Quoting life in song lyrics and movie quotes, watching anime and practicing my golf swing with mass amounts of exciting stories to report on: this is what makes up Allie Dorsey.
This year I am new to the staff as a sophomore and my life mostly revolves around all kinds of writing.
I wouldn't say I'm socially awkward, but I always find myself saying words or phrases from another conversation with someone that only make sense to me.
I'm that one girl who ACTUALLY enjoys school, crazy, I know, right? I find it my very own safe place, and with my writing I hope to encourage others to do what they enjoy in life and live to the fullest.
I work to encourage others even when I am having a bad day. Always smile because you never know who is falling in love with it. I can be pretty blunt, but that all comes with me being a Scorpio so I apologize in advance if I hurt your feelings, it is not my intention to do so.
I'm easy to get along with on most days, but like any other normal human being (who am I kidding? No one is normal), I have my bad days just the same as anybody else. This year I hope to discover more of who I am through writing.
Feel free to come up and talk to me. I don't bite, well, not always at least.