Ugliness fills halls
HOSA hosts ugly Christmas sweater competition
Bells are ringing, lights are flashing and there's a carrot. It's not homecoming, it's ugly Christmas sweaters galore.
Health Occupations Students of America held a competition for the ugliest Christmas sweater Dec. 17. Participants paid $1 to enter. A teacher and a student winner will be chosen.
"We raised over $300," HOSA sponsor Ronda Sisak said.
The money will be used for competition and the HOSA banquet.
"It's our second fundraiser. We are really low on funds," senior Kendal Dulaney said.
Those choosing to participate will be called down during third period to be judged by HOSA members.
"Right now I think it's between and Aubrey and another girl," freshman Ashton Wagner said. " She went all out and is wearing a reindeer hat."
Teachers are judged in a separate competition.
"Coach Simmons is the best teacher I've seen so far," Dulaney said. "She's wearing a very ugly sweater with ornaments, tinsel and a springy Santa hat….oh wait, look at Ms. Fox!"
Colonel Wayne Wilbanks is participating in the teacher contest.
"My wife made my sweater," Wilbanks said. "It's got the whole Christmas Story movie on it."
Freshman Nikki Idlett's sweater represents the Griswald's Christmas Vacation.
"It took me about an hour to make," Idlett sweater. "It even has a squirrel from their Christmas tree."
Update to story:
Sophomore Julian Lynch won the student ugly sweater competition.
Colonel Wayne Wilbanks won the teacher division.
About the Contributor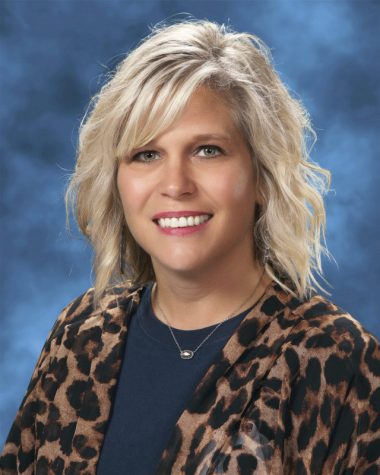 Casi Thedford, Adviser
Heads and tales
I teach my students all the workings of running news publications. This website allows us to showcase all the different journalistic styles...