Psychologist believes Staup, Bridges can be rehabilitated
Hang on for a minute...we're trying to find some more stories you might like.
Planned, premeditated and unprovoked were words spoken in the courtroom to describe the homicide of Ivan Mejia on March 8, 2014.
Once again suited up in their prison uniforms, Brenden Bridges and Adam Staup, both who would have graduated last Saturday, entered the courtroom June 10 to listen to testimonials called on by their attorneys.
The star witness of Wednesday was Doctor Robert Lackey, the psychologist called in to do the psychological evaluation of both Bridges and Staup after they were put in the juvenile detention center last year.
"I was ordered to conduct an evaluation for discretionary transfer," Lackey said. "The first report was a clinical opinion on Adam. The second speaks directly to the court for the discretionary transcript."
"
I heard that [Brenden] asked if the people in juvenile detention were allowed to go home for spring break. He spoke about Ivan's family and feeling bad for what he did. He also said he hoped Wylie doesn't hate him."
— Dr. Robert Lackey, psychologist
From Staup's school record and testimonies from friends and family, he has no past history of provoked or unprovoked violence. Teachers describe him as extremely active in JROTC, polite, respectful, compliant and especially helpful to a fault.
"A majority of people I talked to would describe him as compliant," Lackey said. "He did what people asked him to do. He summed it up by saying it made him feel good to help others. Adam has difficulty expressing his own emotions. He goes out of his way. He made a statement, 'It's like I'm addicted to people who need help.'"
In a self-reflecting phase of the psychological evaluation, Staup describes himself as helpful, believes he gives good advice and is much better at understanding others.
"I didn't find in my evaluation any callousness, quite the contrary," Lackey said. "Brenden would come to him regarding his problems with [Mejia's girlfriend]. Ivan would come to him with his problems with [his girlfriend]. His grades were slipping. His father was unemployed. He had these psychological stressors he wasn't dealing with well."
Since in custody of the juvenile detention center and now the Collin County Jail, Staup has reflected on his actions and feels remorseful toward Mejia's family. He's even begun to open up in a Bible study group that he attends.
"[Staup] tends to be stoic and tends to not show emotion, but when we talked about Ivan's parents he did cry," Lackey said. "He said he hoped the trial would be beneficial to them."
In Lackey's professional opinion, he finds the only elements that elevate his chance for future violence are the details of the homicide.
"I think he is eligible for treatment," Lackey said. "One impediment to treatment is his lack of emotional maturity and lack of self-identity. It's not likely he would kill again."
After listening to the complete testimony on Staup from Lackey, Judge Mark Rusch sat in silence for a while taking in the different opinions and angles.
"If he was a psychopath, I would know what to do with him," Rusch said. "If he was an idiot, I'd know what to do with him. It's the transition from friendship to killing, that didn't seem to bother him that makes me uncomfortable."
Lackey then began his testimony about Bridges.
"It took more building of rapport with Brenden than with Adam," Lackey said. "It took more sessions."
Before the homicide of Mejia, close family members, friends and neighbors all seemed to report the same characteristics of Bridges.
"[Brenden was a] sweet kid, quiet," neighbor of 14 years Paula Cusic said. "He was kind of shy I guess. You had to draw him into conversation."
Others described him as respectful, a little immature and child-like. In the reflective stage of the psychological evaluation, Bridges described himself as pretty funny, smart and protective.
"He felt Ivan was taking advantage of [his girlfriend] and he needed to protect her," Lackey said.
Bridges has seemingly had a hard time transitioning from outside life to juvenile to Collin County Jail.
During his analysis, Lackey found Bridges has a warped sense of what is real. He thinks Bridges thought that he could get rid of Mejia then move on with his life and live happily ever after. He also admitted to thinking about hurting others in his pod at the juvenile detention center and believes everyone else did too.
"Brenden has pseudo independence," Lackey said. "He has a cynical thoughts of others. It's internalized negativity. He sees other people as rejecting him. He told me 'I have a long fuse but a big bomb.'"
Bridges' attorney, Edwin King, told the judge Bridges has not had the opportunity to do any rehabilitation classes while being locked up 23 hours of the day in a single cell. He has made phone calls. In one phone call to his father, after being denied the option of playing basketball outside due to rain, Bridges took out his frustration. He is only allowed one day of exercise per week.
"If [the patrol officer] were anyone else I would have gone on to explain how much of an idiot he was and do much more," Bridges said in the recorded phone call presented by the prosecutor. Bridges also told his mother in a separate phone call, "I'm not going to change because of your opinion or anyone else's."
"I don't think it's beneficial [to keep Bridges locked up]," Lackey said. "I do think he can be rehabilitated."
Read other stories in this series:
Pastor, girlfriend's stepfather take stand in Staup, Bridges sentencing trial

About the Writer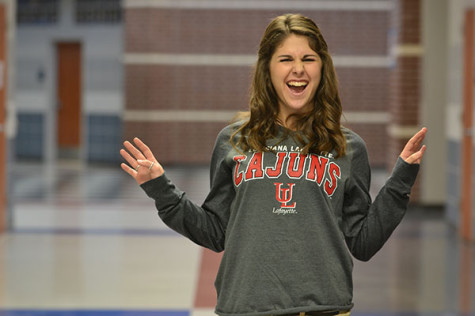 Brooke Vincent, Editor in Chief
I'm Brooke Vincent, fan of Twenty One Pilots, Panic at the Disco and Bear Hands. You can take that as bands or that I just really love multiple pilots,...