Junior wins chance to meet Ariana Grande backstage
She was just checking her Fahlo app in Dr. Best's physics class to see who won the Ariana Grande backstage passes. That is when she saw her own name listed as one of the two winners.
She quickly asked to go to the restroom and left as if nothing was wrong. Once she was safe inside a bathroom stall, she broke out into tears from her excitement.
Out of the 4,000 people entering for a chance to meet pop superstar Ariana Grande at either her Oklahoma, Phoenix, San Antonio, or her Dallas concert, junior Tiara Sellers was one of the lucky eight selected.
Sellers received this experience to meet the superstar by just downloading an app. Fans recorded a 30 second video of themselves saying what they would do if they got the chance to ever meet Ariana Grande in real life.
"For my video I said that if I got the chance to meet her that I would cry, and I did cry when I got to see her," Sellers said. "I started crying when I saw her face."
A total of eight winners were selected, two winners per each of Grande's shows.
Sellers won for the Dallas show and she and another fan were able to meet Grande.
The app provided backstage passes to have a personal meet and greet with Grande. Grande, Sellers and another fan took pictures in a photo booth provided by Grande's representatives.
"I took my best friend Tyler because he loves Ariana Grande too," Sellers said.
This is Ariana Grande's second concert tour called "The Honeymoon Tour." This one is to support her second studio album "My Everything." With a total of 77 shows, 61 are in North America, 15 in Europe and one in Asia.
About the Writer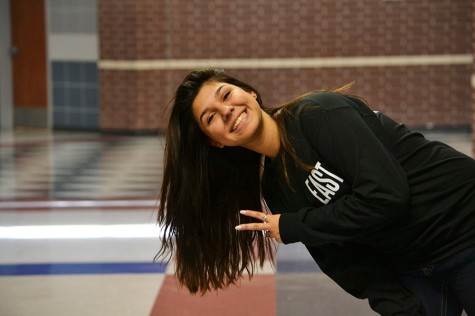 Andrea Coca, Staff Reporter
Hello, I'm Andrea Coca! (I'm not really a "hey" type of girl) Btw I don't mind being called Drea or Coca I actually prefer those, but not "Andrea...