Who will be the Big Man on Campus?
Hang on for a minute...we're trying to find some more stories you might like.
ITS hosts first male beauty pageant
This year the school's chapter of the International Thespian Society is hosting the first ever Big Man On Campus Pageant.
All clubs, organizations, societies and sports teams on campus are encouraged to choose a male contestant within their organization to represent them, but it is not required.
The contestant must be a male who is a junior or senior who is currently enrolled at the school and passing by the UIL eligibility requirements.
"Guys are already being fought over by 4 to 5 different organizations," said the host of the pageant, senior Tanner Smithson, "So they need to pick the guy they want to represent them and quickly."
To be a part of the pageant, the entry fee of $20 must be paid by April 21, and contestants must attend mandatory meetings.
The meeting dates are:
April 21: 8:15 a.m or 4:30 p.m
May 6: The dress rehearsal from 4:30 to 9 p.m.
May 7: The pageant from 4:20 to 7 p.m.
Contestants will be judged by a panel of judges brought in by the ITS in four categories; evening dress (formal wear), athletic wear (club or swimsuit), talent and on stage questioning.
Winners will be crowned and sashed at an awards ceremony immediately following the conclusion of the pageant.
"We want people to bring signs, hoot and holler," Smithson said. "We want the crowd to be riled up and full of excitement, as if this was a football game."
The winning contestants will be awarded in the form of a cash donation benefiting the organization or club they represent. Mister Big Man On Campus'
organization will receive a $100 donation, first runner-up will receive a $75 donation, and the second runner-up will receive $25 donation.
Also, as a part of the Society's philanthropy as well as the community as a whole, a "Mr. Heartthrob" will be crowned. This young man will be decided by the audience the night of the show by placing cash donations in containers in front of the stage. The contestant with the most funds by the end on the night will be crowned as "Mr. Heartthrob". All of the funds made by this portion of the contest will be donated to "at risk" communities and teens in Texas and across the nation.
"This is another reason for our school to come together as a community," Smithson said. "There is something about live theatre bringing people together because it allows us, no matter how diverse, to sit, enjoy and laugh together."

About the Writer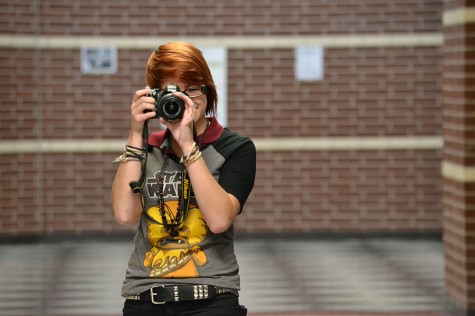 Caroline Witty, Staff Reporter
Hey guys! My name is Caroline and I am a senior. I have to admit something to my readers… I have an obsession with life. That is why I am an enthusiast of the photographic arts. I am planning on being a National Geographic Photographer but for now I am a reporter for WEHS newspaper and Photo Editor for the yearbook. I am also the President of the EVGHS club and an in TPSP Independent Studies. I have an obsession with Dr. Pepper, photography, reading, writing and dogs. Yes, dogs; I have five Great Danes. I've been told that I'm exotic and crazy, I guess that is true. I mean who wants to be normal anyway?