Pick your poison
Hang on for a minute...we're trying to find some more stories you might like.
He never thought that one of his best friends would be the one to eliminate him. He thought he was safe, out enjoying lunch on a nice day, but when he was informed that he had just ingested poison, he knew it was all over. Senior Jacob Zaborsky was out of the game.

East Assassins is a new game brought to the school by senior Cole Freda, in which players are given a peer to 'assassinate' and try to not be eliminated in turn.

"The objective is to not be hit by an assassin and get the target you're appointed and whoever the last man standing is wins," Freda said.

Students could enter by putting in $5, and the winner won the total $250 collected.

"East Assassins is a fun, competitive way to 'assassinate' your peers, with a little added compensation," Zaborsky said.

Zaborsky was a fan favorite to win, but was eliminated in the first round by a friend of his.

"

I was poisoned. Matt Betts and I went to lunch one day, and while I wasn't paying attention he spiked my cup."

— Jacob Zaborsky, senior

Students participate in friendly assassin game

"I was poisoned," Zaborsky said. "Matt Betts and I went to lunch one day, and while I wasn't paying attention he spiked my cup."

Students could be eliminated by being shot with a water gun or by being "poisoned", which is done when the assassin draws and X on a cup and the victim drinks out of it unknowingly.

"At this point I like Spencer Stalcup as the senior to win and the junior between Bryson Ponder and Jordyn Perry, but there can only be one person at the top," Freda said.

The game started with around 50 players, and they are now down to the last 10. The game will be brought back next year under new administration.

"This will be for East people," Freda said. "I'll pick a junior to run it next year."

About the Writer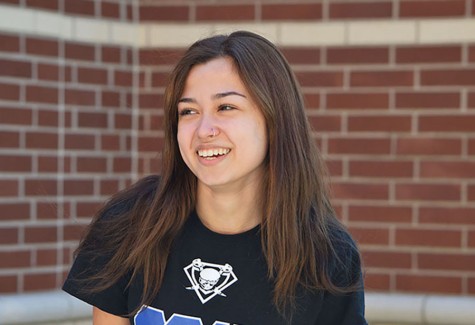 Ash Thomas, Editor in Chief
Ash Thomas. Four time Oscar nominee. Avid sailor. Competitive wrestler. I've been around the world six times and I'm up for Woman of the Year.
Except, not. Do I look like I could be a wrestler? Although I haven't had the opportunity to do everything listed above, I have been given the honor of being Editor in Chief to the best high school newspaper in the world. This is my third (and sadly, last) year on staff and I am thrilled for the upcoming year. Outside of newspaper, I spend most of my time with my kitten, Adaline, who I adore as if she was my actual child, and my friends who I consider my most prized possessions. I'm dedicated to making this year one to remember both in school and out.