NHS inducts new members
The National Honor Society inducted 41 new members Nov. 18 at the annual induction ceremony held in the auditorium.
"Statistically, less than 8 percent of students in the country achieve this distinction," NHS sponsor Mrs. Amy May said.
Current NHS members and officers seated on stage led the night's event. Rachael Porterfield, NHS historian, kicked off the ceremony by introducing the guest speaker, Geometry and Pre-Cal teacher Mrs. Pauline Cheng.
"I'm very proud of our NHS officers for their hard work and public speaking poise," May said.
Cheng's speech encouraged the members to strive for excellence
As their names were called, the newly inducted members walked across the stage, shook hands with Mr. Williams and Ms. Cheng then signed their names in the NHS member register.
"By signing the book, they agree to uphold the principles of NHS (Leadership, Scholarship, Character, and Service) as well as officially join the Wylie East Chapter of NHS," May said.
Each new member was asked to bring an honored guest. This was a teacher, coach or administrator whom had a positive impact on their academic career.
Junior Michelle Luu chose Coach Jeff Scales to be her honored guest.
"He inspired me to get better in basketball and he is the most influential person in my life," Luu said.
Following the ceremony, refreshments were provided in the media center where students took a moment to visit and take photos with their honored guests, family and friends.
The NHS organization is the nation's premier organization established to recognize outstanding high school students. More than just an honor roll, NHS serves to honor those students who have demonstrated excellence in the areas of Scholarship, Leadership, Service and Character.
"NHS membership is not just a computer-generated certificate indicating you get good grades," May said. "Membership is a nationally-recognized honor that is difficult to achieve, signifying [they] are the complete package: a good student who cares about leading others to make a positive difference in this world."
About the Writer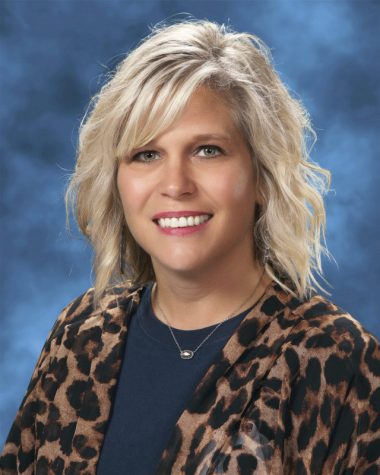 Casi Thedford, Adviser
Heads and tales
I teach my students all the workings of running news publications. This website allows us to showcase all the different journalistic styles...