Drippin' or Trippin?
HOCO dress-up days were mediocre
Homecoming week provides students with some of the most creative freedoms they can get all school year. Students have the opportunity to dress up according to the fun themes organized by STUCO and the cheerleaders. However, there has been debate over this year's main theme, Trip Around the World, and if it brought the school spirit the organizers intended it to bring. The reviews below cover the creativity of each dress-up day last week and reveal how enjoyable each day was. 
Oh, The Places Raiders Will Go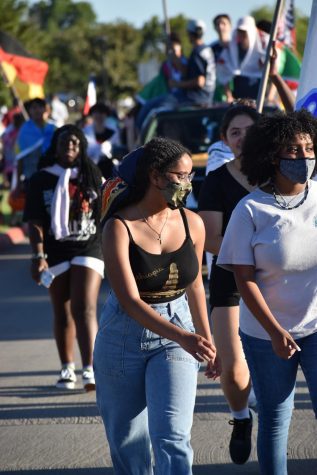 Ethiopian Pride \\ During the homecoming parade, sophomore Elshaddai Solomon repped her home country Ethiopia on her shirt. photo credit: Abrianna Gilkey
With Monday's theme, wear clothes that represent where they've been or would like to visit, students could only go so far. Although multiple students participated, there wasn't much they could wear beyond T-shirts. Another flaw about this dress-up day was how vague it was. It was hard to tell whether a student was from someplace or wanted to go someplace. Although the theme wasn't clear, it is clear to see that this dress-up day was a thumbs down.
City Lights vs. Country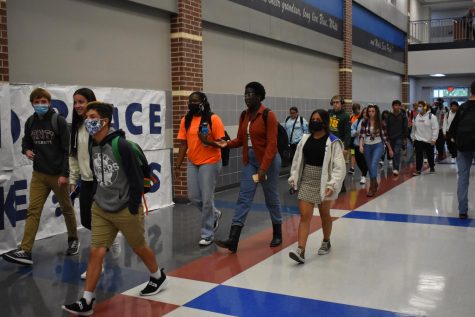 City meets country \\ Showing off their city lights and country outfits, students participate in Tuesday's homecoming theme, City Lights vs. Country. photo credit: Casi Thedford
Another day, another T-shirt. Tuesday's attire had students wear neon colors or country apparel. There was a lot of student participation on this dress-up day as well. However, the weird part of this day's attire was how there was no clear distinction between the two parallels. Instead of neon, students should've been given the option to wear urbanized, modern wear to represent the city. That would've provided more distinct contrast with the country apparel and would've allowed for outfits beyond a neon T-shirt. As the second let down of the week, City Lights vs. Country earns a thumbs down. 
Island vs. Mountains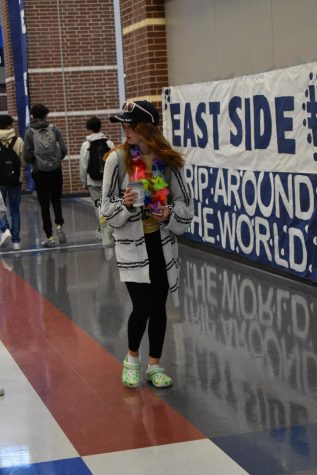 Cardigans and coffee on a summer day \\ In efforts to escape the cold hallways, a student wears a cardigan over her island outfit. photo credit: Casi Thedford
On Wednesday, students could choose between winter or summer clothing. The issue with Island and Mountain attire is that there is no comfortable option. Even though it's September, the Texas heat is still intense. Students did not want to wear coats, gloves, and hats to school on a hot day. In addition to that, the school building is freezing. Wearing sandals and shorts wouldn't be ideal for the students either. It's clear to sea that Islands vs. Mountains was a rocky dress-up day, making it the third thumbs down of the week.
A Day of Traveling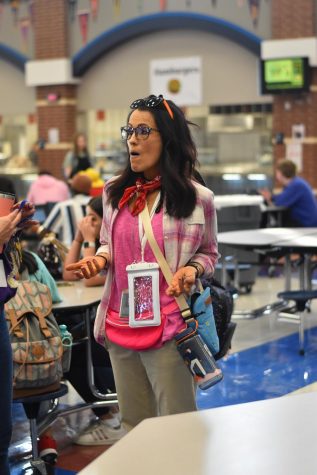 Directions anyone? \\ Embodying her best tacky traveler, a teacher participates in Thursday's homecoming theme, A Day of Travelling. photo credit: Casi Thedford
Unlike the rest of the week, Thursday's theme, to dress up as travelers, was not plane (last pun, I promise). As one of the most fun themes this week, "Tacky Tourist" day had some of the most student participation in the entire week. The school was filled with socks and sandals, sunscreen covered noses, and sun hats. Seeing each other's goofy outfits provided students with amusement from this dress-up day. In sum, A Day of Traveling made for a very enjoyable theme, giving it a well-deserved thumbs up.
Home Sweet Home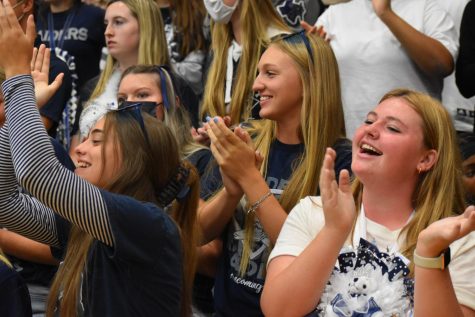 Round of Applause \\ Cheering and applauding in the stands, juniors rock their class colors during the first school pep rally, Sept. 3. photo credit: Kayla Robertson
On Friday, students showed off their class pride with class colors. This theme was perfect for raising school spirit and getting students hyped for the first pep rally of the year. Students were also able to get creative with their mums. The school halls were packed with bows, ribbons, and stuffed animals. Overall, class colors made for a solid theme, giving it a thumbs up.