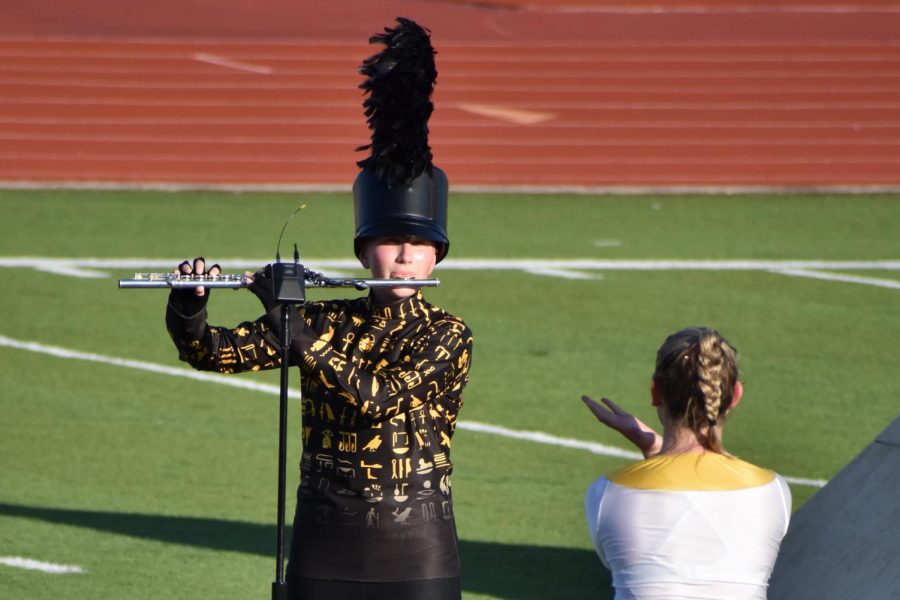 photo credit: Addie Orr
Going solo
She's the three time flute soloist for the Pride of the East, she loves dried banana chips, and her favorite band is The Scary Jokes. Long story short, she's Hanna Harmon.
When did you first get involved with music? 
I was in choir in elementary school, but switched to band in junior high.
What's your favorite memory from being in band?
Going to Seattle with the wind symphony in my sophomore year was great. We went to the Space Needle, museums, even to the original Starbucks. We also went on a boat ride. Good times. Getting seventh in state finals earlier that year is also one of my best memories. It was a feeling of pure joy and relief.
What other activities are you involved in? 
I'm in NHS, NTHS, and Interact club, which all involve a lot of volunteer service activities. Sometimes balancing band with these extracurriculars and academics gets frustrating, but it is possible.
What has been your favorite music piece to play?
My favorite ensemble piece is Children's March by Percy Grainger, which I played with the wind symphony in 2019. This song, while not as technically challenging as some of the other pieces I have played, is very entertaining due to its characteristic playfulness. Also, there are parts in it where the wind players get to sing. I hope we play more of Grainger's music this year.
How has being a soloist impacted your experience in band?
Being a soloist in our shows honestly hasn't changed much for me, other than making me a bit braver. The pressure sort of dissipates once you know the judges don't care if a soloist messes up. For the band to score well, every single performer needs to give it their all, from the guard to the front ensemble to the battery, the winds, and even the prop team. That's what makes marching band so hard.
How do you prepare for a solo?
As soon as I get the music I try to memorize it. Then I listen to the source material if there is any, to get the style in my head. I play it for anyone I can, especially directors and private lesson teachers, who help me refine it even more. The most important thing, though, is just to play it a lot, so I get used to being nervous.
What are you looking forward to most this marching season?
I'm looking forward to performing in Disney World! And hopefully making state finals again with our marching band show. The best part of the season is always the competitions; the exhilaration of watching other bands perform and of showing off our own hard work makes for a good day. Staying at hotels with the entire band is pretty fun too.
Where do you see yourself in 10 years?
In 10 years I'd like to be earning big bucks. Enough money for me to get Starbucks every day and not feel bad about it. I think I'd want to have a cat too.
In a dash–
Favorite vacation spot: Colorado
Tea or coffee: Coffee
Last show you binged: Invincible
Dream job: Computer scientist
Favorite dessert: Pistachio ice cream