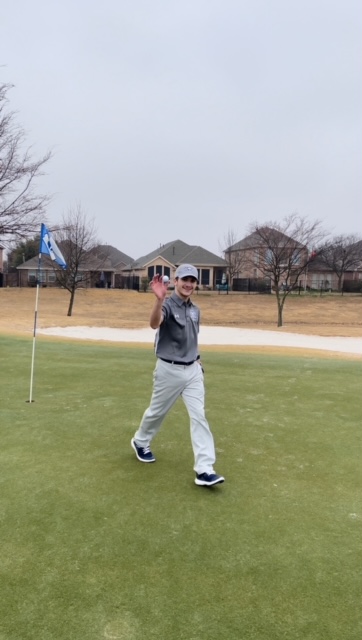 photo credit: courtesy photo
One putt
He likes cars, but likes golf more. He is in junior varsity Golf, which got first at the RHS Big 4 at Waterview Golf Course Feb. 8th. He medaled in ninth place individually.
Long story short, he's Carson Tittle
Have you ever gotten a hole in one at a competition before?
I have not gotten a hole in one at a competition before. In fact, this was my first hole in one, however, I have gotten close several times.
How long have you been golfing?
I have been golfing for roughly six years now.
How did it feel to get a hole in one?
While on the outside I was calm and collected, on the inside it was very exhilarating and felt satisfying to my golfing career.
What is your passion? Why do you love it?
My passions are most definitely cars and golf. I've always loved playing golf and working on cars since I was a kid.
What are your long term goals in sports?
My long term goal for my sports career is to try my hardest to play in college and make all the hard work go towards a scholarship.
What is the best part of playing golf?
My favorite part is not only the serenity of the sport, but it also has an extreme aura of satisfaction when I see my scores have gone down, even by just a couple strokes.
In a dash–
Chiefs or Buccaneers? Definitely the Chiefs.
Mountains or forests? I love both, but hiking is one of my favorite activities, so mountains.
Favorite plant? I suppose my favorite plant would have to be a cactus, because I love prickly pear fruit.