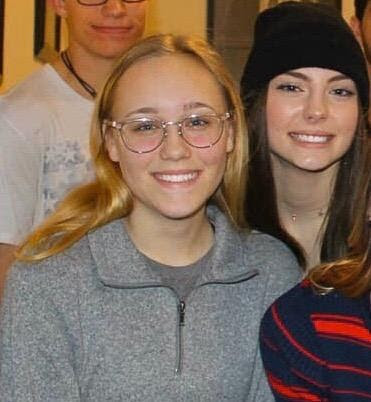 photo credit: Courtesy photo
Long story short, she's Riley Pearce
She ice skates. She's obsessed with Demi Lovato. She's in JROTC. She's a helpful friend. Long story short, she's Riley Pearce.
What hobbies do you do out of school?
Usually I like to ice skate, but I've been baking a lot recently too
What are you most passionate about?
I'm most passionate about helping people and making sure everyone is happy and healthy.
What are you involved in that has to do with your passion?
JROTC definitely. One of our core values is service before self and i think that by helping people and making them happy even when i'm not stands with that value. I always try to do as much as I can to follow our core values.
Who or what influences you?
My mother. She is a hardworking and beautiful woman and i want to follow after her when I'm older.
What are the 3 things most people don't know about you?
One, I always need something to do, I get sad when I'm bored, two, any song I listen to i can memorize in less than a day, three, I am deathly afraid of airplanes.
What are your plans for the future and how are you preparing?
I plan on attending UNT to study pediatric nursing and I've been preparing by taking medical classes that the school offers and paying attention in science classes.
In a dash–
Walk up song: Probably "Keep Your Head Up" by Andy Grammer or "Confident" by Demi Lovato.
Guilty pleasure song: Woke up late by Drax Project
If you could meet one celebrity, dead or alive, who would it be?: I really want to meet Jennifer Lawrence, she seems like a really cool person.
If peanut butter wasn't called peanut butter, what would it be called?: Peanut Paste