New practices
FTC Robotics team experiences first underwater challenge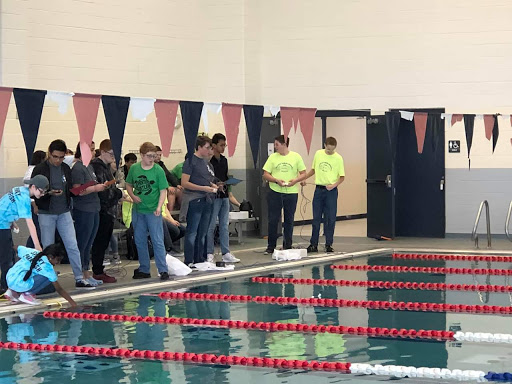 writer Kyndal Nystrom
March 26, 2019
Designing, building and programming a robot with the ability to:
speed through five hoops in a swimming pool

retrieve balls from a vault opened by a magnet

light an LED

return balls back to the entrance of the pool
all while racing other teams was the main task for students in robotics this year.
The FTC Robotics team travelled to Houston March 22 to compete in a challenge called Seaperch with a robot that could work underwater.
"The most challenging part was the actual competition which asked for some very complicated maneuvers," sophomore Nathan Goff said.
The team consisted of seven sophomores and two mentors, teacher Candice Lawrence and parent Micah Rice, an electrical engineer.
"My favorite part of doing Seaperch was testing the robot with the entire team and joking and stressing at the same time," Goff said.
The team placed 21st place out of 55 junior and senior high schools. Sophomore Rachel Pitcock was proud of her team's hard work and how they remained competitive with the other teams.
"I think for our first year we did really good," Pitcock said. "We had a lot of issues along the way but we did fairly well considering it was the first time we did anything involving water."
The team plans to grow the robotics program for next year and compete in more competitions.
"It was worth it in the end," Pitcock said. "Next year we're thinking about doing the open competition instead of closed where we had to follow everything step by step so we can make more adjustments."