From Wylie to Wharton
Thespians host car wash to benefit Hurricane Harvey victims
Hang on for a minute...we're trying to find some more stories you might like.
The Raider Thespians will host a car wash Saturday, Sept. 9 from 9 a.m. to 3 p.m. at O'Reilly Auto Parts in Wylie. The proceeds from the car wash will benefit the theatre of Wharton, a small Texas city 60 miles southwest of Houston.
Wharton High School was heavily impacted by Hurricane Harvey. Their theatre building was flooded with eight inches of water, destroying numerous costumes, lighting and equipment.
"A team of remediation folks is going through the buildings and we can't remove anything until they finish and then we will be able to determine what can be dried out and what is permanently lost," said Rachel Rust, a Wharton ISD school board trustee. "We had some theater kids wanting to start pulling things out who were told they had to wait and were crushed. Elizabeth Stransky (the president of the student thespian club) is the daughter of a fellow school board member and she was in tears when she saw the building."
Theatre director Mrs. Andrea Farnham was deeply impacted by news coverage of Hurricane Harvey and decided she had to help.
"
I have no words, but please thank them from the bottom of my heart and I hope that someday we can meet and thank them in person."
— Elizabeth Stranksy
"There were so many people who had everything one moment and nothing the next. So I just thought, we have this car wash coming up and we need to do something. I proposed giving 100 percent of what we made to the victims and my theatre kids said 'yes!'" Farnham said. "We wanted to help another theatre because I just thought about all the things that we have accumulated and how long it took us and how much everything we have costs. I couldn't imagine having to start over. I can't imagine how devastated those kids and teachers are."
The money from the car wash, which was originally going towards new curtains in the black box theatre, will be used to try to recover and rebuild all the props, costumes, lights and more at Wharton.
"The theatre is our home. It is a place where if you look around you see painted signs past students have made, platforms built by students, costumes that were hand made by volunteers, pictures from past productions, projects that sit on shelves, a booth full of electronics our students program. The list goes on and on," Farnham said. "All of the students in the theatre want to help get some of those things back for another school. Maybe we can't get back their memories, but hopefully we can help them get the supplies to start making new ones."
The students of Wharton High School were "blown away" that students from halfway across the state wanted to help them.
"I have no words, but please thank them from the bottom of my heart and I hope that someday we can meet and thank them in person," Stransky said.
Tickets for the car wash are $5, and donations will also be accepted.
"You should come to our car wash so you can help people out. That is the meaning of life right? Treat people the way you want to be treated and spread joy. We would want the same thing done for us in a time of need. It's just the right thing to do," Farnham said.
For those who cannot make it to the car wash, you can donate here.
About the Contributor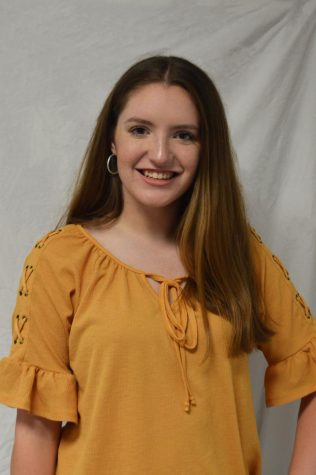 Addie Orr, Editor in Chief
As a senior, yearbook co-editor-in-chief, newspaper editor-in-chief, Sapphire Lieutenant, AP student, and full time fangirl, the words "free time"...