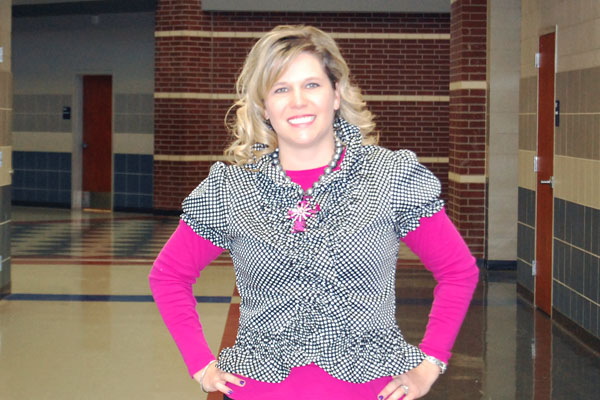 Picture yourself in a large class with no one you know and it's your first day of sophomore year. You just moved here. Now picture yourself with a new teacher you don't know who the minute she steps in that door, she completely baffles you with the pink and her fantastic fashion sense. What you don't know is that she will make you go beyond your comfort zone and eventually you'll be like a family in that class because of her.
That's Mrs. Thedford's job. As that very pink-happy teacher, it is her responsibility to oversee the publication of the school newspaper, yearbook and this news site. She is not afraid to push her students to do their very best on these publications. There is never a day where we are not busy because of her. She is not afraid to hang out on the students' level and talk with them like a friend.
She has two beautiful little girls who will make you melt at the sight of them and a husband who has been known to jump right in and support the Raiders whether it is hanging a yearbook banner or building a larger than life mum for the homecoming parade. She has been the WEHS journalism teacher since the school began, so literally since the beginning of time, Raider time that is! At least, I'm hoping she does considering I'm just her student webmaster, Tiffany Ing, who wrote this for her because she knew the awesome person who changed her future career to journalism would portray her fairly and accurately!
Casi Thedford, Adviser
Oct 07, 2020

Next two varsity football games scrapped!

(Story)

Sep 29, 2020

Remote students choose to stay home, not go to school

(Media)

Sep 28, 2020
Sep 14, 2020

Time for celebrations

(Story/Media)

Aug 05, 2020

Warning: We may snap at anytime!

(Media)

May 04, 2020

Media staffs win achievement awards

(Story)

Apr 28, 2020

Principal Mike Williams announces retirement

(Story/Media)

Mar 17, 2020

Yearbook receives top rating

(Story)

Feb 26, 2020

Teachers lose their hair  

(Media)

Jan 05, 2020

Celebrate life of CT teacher Mrs. Holcomb

(Story)

Oct 22, 2019

Homecoming events abound

(Media)

Sep 30, 2019
Sep 18, 2019
Aug 14, 2019

Staffulty gon' and done the two step

(Story/Media)

May 26, 2019

Baseball season ends with loss to Midlothian

(Story)

May 25, 2019

Class of 2019 culminates year at commencement ceremony

(Story/Media)

May 15, 2019

Graduation: doors open at 9 a.m. for commencement May 25

(Media)

Apr 24, 2019

Baseball, softball programs honor teachers

(Media)

Apr 05, 2019

Dancing through the decades

(Media)

Mar 25, 2019
Jan 24, 2019
Oct 29, 2018

NHS inducts 95 members at ninth annual ceremony

(Story/Media)

Oct 28, 2018

'Shining the Way' nominees honored at luncheon

(Story/Media)

Sep 27, 2018
Aug 28, 2018

2018-2019 News Photos

(Media)

Aug 22, 2018

School pictures, yearbook orders coming soon

(Story/Media)

May 23, 2018

22 things high school taught me

(Media)

Mar 25, 2018

Yearbook Captured.

(Media)

Nov 14, 2017

Robotics teams up with Girl Scouts for STEM

(Story)

Oct 07, 2016
Sep 22, 2016

The day I saw the President

(Media)

Dec 17, 2015

Ugliness fills halls

(Story)

May 11, 2015

Seniors, juniors may leave campus early June 3-5

(Story)

May 06, 2015

Sapphires level up at spring show

(Story)

Apr 20, 2015

Newspaper, yearbook staffs win big at ILPC

(Story)

Apr 01, 2015

Blue Print site wins third best website

(Media)

Mar 02, 2015

Yearbook earns Jostens national yearbook design recognition

(Media)

Feb 27, 2015

Turning the tables

(Media)

Feb 12, 2015

Bray wins teacher of the year

(Story)

Jan 14, 2015

East UIL places at Princeton meet

(Story)

Dec 19, 2014
Nov 14, 2014

Friday fantastic fanatics

(Media)

Nov 19, 2013

NHS inducts new members

(Story/Media)

Oct 01, 2013

Yearbook staff abuses privilege for story coverage

(Story)

May 27, 2011

Yearbooks are here

(Story)

Mar 03, 2011
Dec 22, 2010