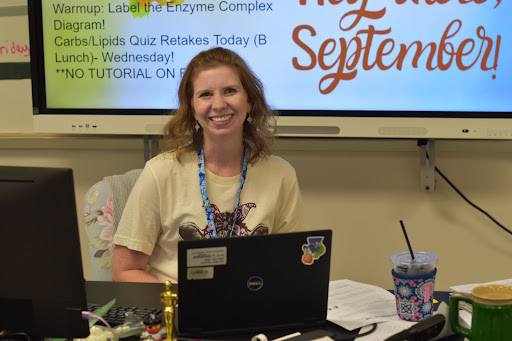 photo credit: Maggie Volpi
From across town: Mrs. Anna Iley
Transferring from one Wylie high school to another, Mrs. Anna Iley joins the Raider family as a Pre-AP Biology teacher in room 241.
Where did you teach previously?
Wylie High.
How long have you taught?
This is my 14th year.
What are your goals for this year?
My goals are always to build relationships with students, and in building those relationships, get them to be successful in my class so they have a good foundation in biology.
What are your hobbies?
I'm an avid reader when I can be, I enjoy spending time with my husband and daughter, and I'm a huge college football fan, so I spend my Saturdays watching Aggie football.
What inspired you to teach?
I never planned on being a teacher. After college I worked for an accounting firm for a while, but it was boring and I missed science. My best friend was teaching biology at the time so I decided that I maybe wanted to do that. So I went back to school and finished my teaching certification and I started teaching biology and I just kind of fell in love with it.
What's your favorite part of being a teacher?
I like being able to get to know the kids. I like being able to have fun with them, and building those relationships. At this point in my career I've taught lots and lots of kids that have now graduated high school and college, and have their own careers and their own families and it's nice to be friends with them on social media and kind of see how they've just grown up over the years.
QOTD: Favorite snack food?
I like Reeses Pieces.