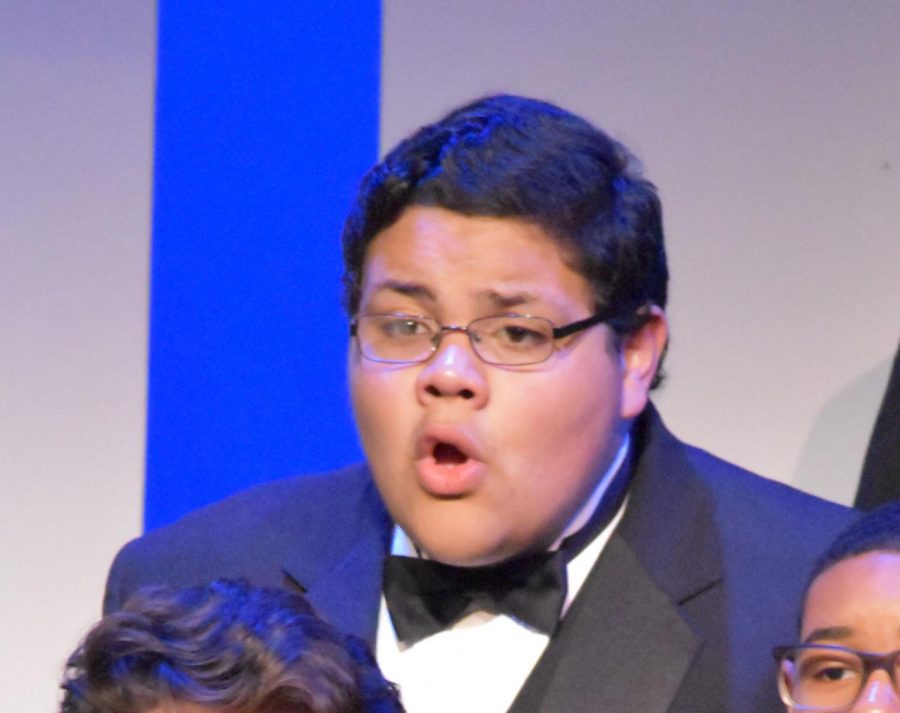 photo credit Addie Orr
Long story short, he's Luis Lopez.
He can speak Spanish. He loves to eat pizza. He has the most contagious laugh ever. Long story short, he's Luis Lopez.
Tell three things about yourself.
I'm from Venezuela, my favorite color is purple, and my favorite food is pizza.
How long have you been in choir?
I've been in choir since sixth grade.
Who is your biggest inspiration?
Jaxson Hill because he was so passionate about music and choir and he showed me how to strive to be the best person I can be.
Why are you passionate about choir?
I am passionate about choir because it is a whole new way to express yourself not only relying on words, but on dynamics and rhythms to convey a message.
Are you a dog person or a cat person?
Dog person, I hate cats.
If you could meet one celebrity dead or alive who would it be and why?
The Rock because he is the best guy in the world!
Least favorite genre of music?
Rap
Pineapples on pizza, yes or no?
Yes
What's your goal regarding choir?
To become choir president.
Have you won any awards in choir?
I've made it to the All-Region Choir and at Burnett Junior High I won Singer of the Year.
Is there anything else you'd like to add?
Anyone in choir vote for Luis Lopez choir president 2022.
What's next?
I'm doing the choir All-State process, so hopefully I can make the All-State Choir!
In a dash–
Favorite song: Pompeii by Bastille
Last show you binge watched: Stranger Things
Favorite show: Marvel's Agents of Shield
What instrument would you like to play: The guitar or drums