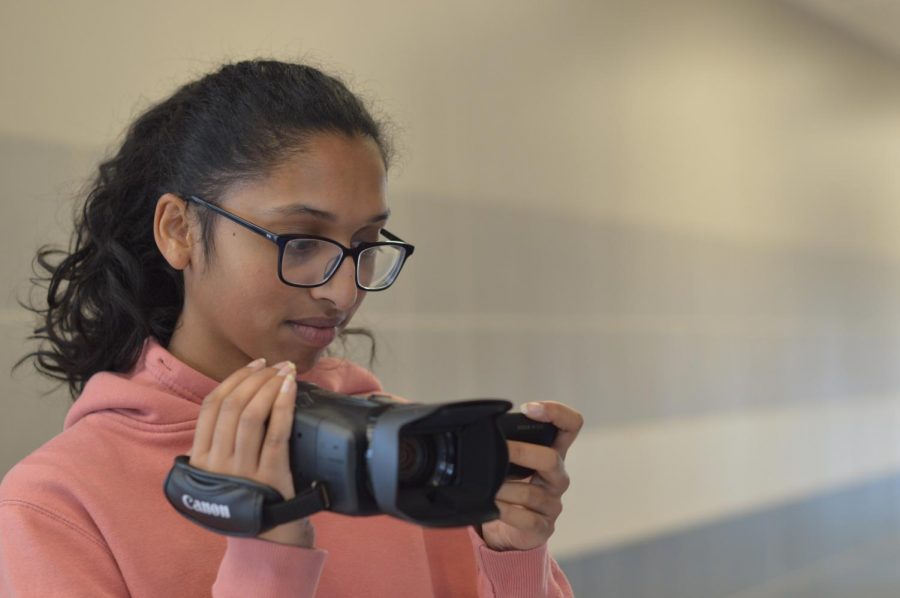 photo credit Avery Platt
Long story short, she's Elizabeth Thomas
She prefers the color blue. She despises tomatoes. She can't live without her phone. She has a hobby for nail art and applying fake nails. Long story short, she's Elizabeth Thomas. 
What are you most passionate about? 
I'd say film/visual storytelling.
Why is that your passion and when did you discover it?
I have been fascinated with the industry since fifth grade when I started making home videos or "movies" with my cousins. It started with a love for acting, but the more we did this I realized I am more of a production person; that's where I saw myself, and I think I was in seventh or eighth grade when I made the decision that I wanted to be in the industry.                                                                                                            
What are you involved in that has to do with your passion?
I am in Blue-I News, our school's broadcasting network found on YouTube. I film and edit real stories as well as promote organizations through videos in class. 
Have you created anything? If so what and where can one find it?
I have created a lot through the class and on my own time. My first piece that aired on Blue-I was about a varsity basketball player back in February 2017, which can be found on YouTube. After that, I would have a piece on the show almost every week. On top of that, my friends and I from my art class created an Office parody called The Art Class, which is also on YouTube. 
What awards or recognition have you received?
I haven't received an award for film specifically yet, but I did receive the Wylie East Shining Star award in 2019 for the hard work I put into the video production class.
What do you do to further your success?
I am trying to familiarize myself with programs used in the industry, and I keep working on my skills. I also continue to think of ideas for my videos and possible short films. 
Who or what influences you?
My family and the people I surround myself with. Typically Indian or immigrant parents wouldn't want their child to take a risk of going into a career like film, but my parents, family and friends have been very supportive of me and encourage my ideas and visions. 
What are your plans for the future and how are you preparing for it?
I plan on going to UNT which I have already been accepted into and majoring in marketing/business. Film is a very risky industry and there's no guarantee that I'll make it big so it won't be financially stable, I need a backup plan just in case. I also think it will benefit me to understand the business side of film. Then I'll either go for my master's degree in film production or just go straight into film. I also want to bring some representation into the industry. I want to prove that a female South Asian can indeed make it in the industry and one of my goals is to make a movie with a South Asian lead to prove that we are more than just stereotypes.
Favorite movie genre? Action/Adventure
Dream vacation? Europe or a Polynesian island-like Tahiti
Who would play you in a movie? Naomi Scott
What do you want for Christmas? MacBook with editing software