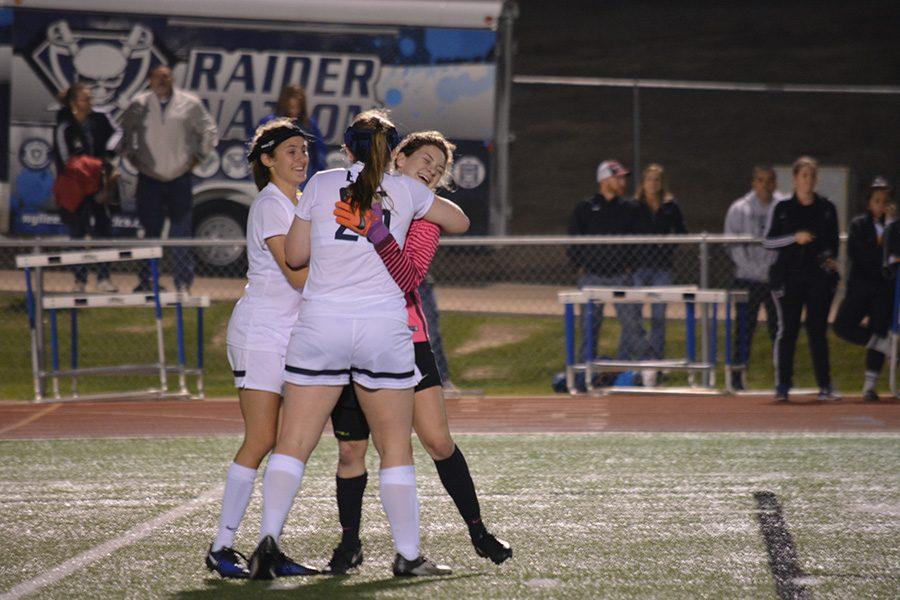 All in; all together
Forney game comes down to penalty kicks
The varsity girls soccer played Forney High in a close fought game until the end, Forney came out first with a goal in the beginning of the second half. The varsity team came back and scored a goal with just over 10 minutes remaining to tie the score up at one.
"Normally with 10 minutes left we attempt to score again before the end of the game compared to just playing defensive," senior forward Tori Smith said.
The final buzzer hit with the game still tied at one, meaning the game was going into penalty kicks. Smith was up to kick first, setting the tone for the rest of the shooters, the shot went in, giving them the early 1-0 lead.
"I go out with confidence in my kicks, and I'm pretty confident in our keeper," Smith said.
Sophomore goalkeeper Narissa Hopps saved the first kick from Forney forwards. Following up with the lead both teams traded goals keeping a one goal lead for the varsity team at 2-1. Forney then scored after a varsity shooter had her shot saved tying things up at 2. The varsity team answered back with a score of their own, followed up by a save by goalie Hopps to retake the lead 3-2.
"It's really nerve racking because you feel like the whole game is on your shoulders. You just have to go up confident and not think about it too much," senior defender Logan Dye.
Defender Emma Chambers was the fifth shooter for the team, know if she made this shot she would go on to win the game, if not the pressure came down to Forney.
"It's intense being the fifth shooter, because if I score we win, but if I don't score then we go on to the next set of five," Chambers said.
Putting the ball into the back of the net, the rest of the team rushed the field all crowding around Hopps screaming with joy.
"There's nothing better than the crowd cheering after a brilliant save, it was heartwarming knowing that the rest of the team was proud of me," Hopps said.