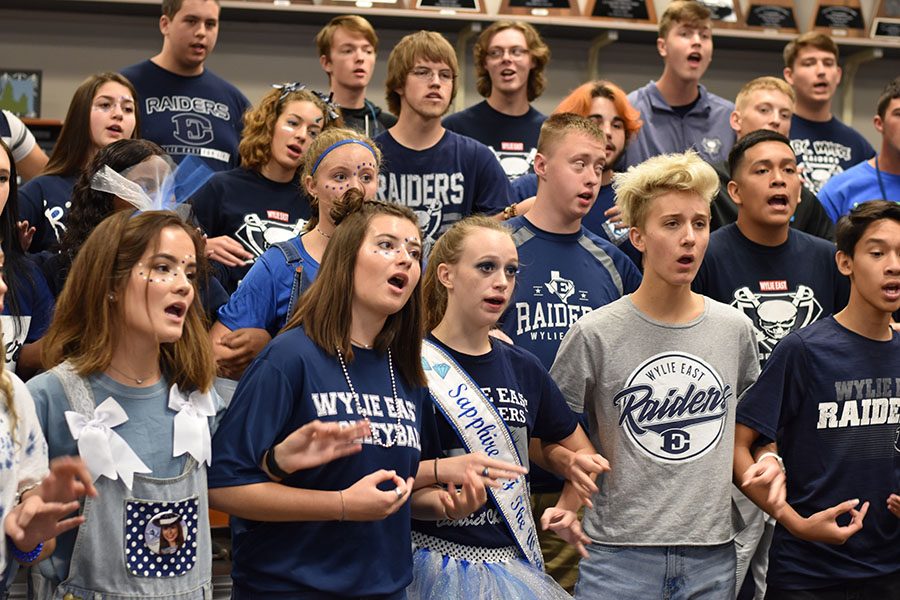 photo credit Addie Orr
Out of nowhere
Choir introduces new Prestige
September 25, 2018
This new choir came out of nowhere. Literally. Out of the Blue started this school year as a replacement for last year's show choir Prestige.
Instead of it being a class period, Out of the Blue meets during Power Hour of Friday during A lunch. This year around 80 people tried out with 16 people making it.
"I'm so happy that many people auditioned," Assistant Choir Director Mrs. Ashley Dame said, "We have a talented group of singers."
Last year, Prestige, according to Mrs. Dame, was more like a pop choir. Out of the Blue's style is more similar to acapella group Pentatonix.
"Our best feature is how we sound," senior Kamryn King said. "It's a whole new style."
So far, the song choice this year includes Fix You by Coldplay and Rosanna by Toto.
"Those are some of my favorite songs so I can't wait to perform them," senior Kaylen Younger said.
Their first competition is for Big D Classic in Dallas.
"I'm most excited for the change in style combined with the tremendous skills of the other performers," senior Adam Orr said.
Out of the Blue members
Rachel Bickers (10), Soprano 1/Vocal Percussion
Jordan Meyer (12), Soprano 1
Kaylen Younger (12), Soprano 1/Soprano 2
Delaney Crane (10), Soprano 2
Iris Kurz (10), Soprano 2/Alto 1
Emilie Johns (12), Alto 1
Kamryn King (12), Alto 1
Jocelin Wesley (10), Alto 2
Joan Lavaki (12), Alto 2
Devan Hardemon (10), Tenor 1
Elbert Haney (9), Tenor 1
Jaxson Hill (12), Tenor 2
Eli Soriano (10), Tenor 2
Adam Orr (12), Bass 1
Grant Reeves (10), Bass 1
Sam Johnson (11), Bass 2
Brayan Rebolledo (10), Bass 2