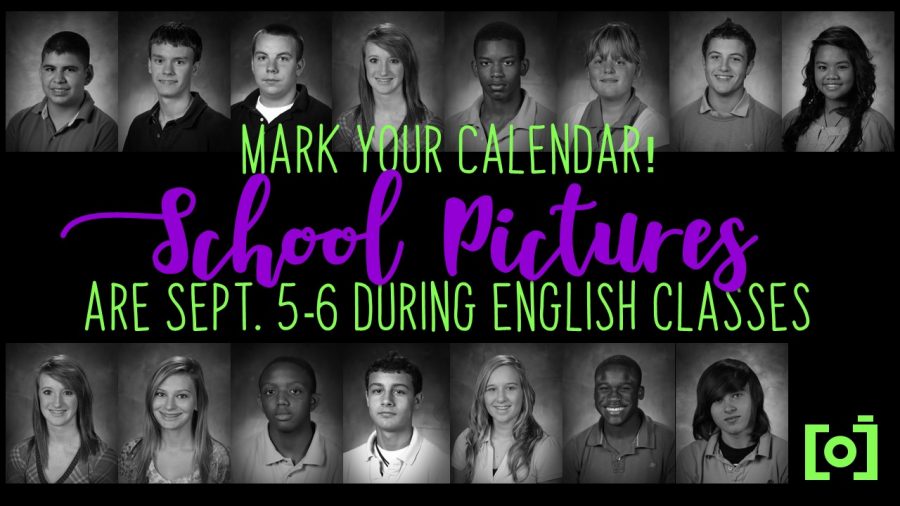 photo credit: Casi Thedford
School pictures, yearbook orders coming soon
B&E Photography will take school portraits Sept. 5-6
August 22, 2018
Get your hair appointment booked. It's time to smile for the camera for school yearbook pictures.
Ninth-11th grade students will have their school portraits taken on either Sept. 5 or 6 during their English classes. B&E Photography will take the portraits on the auditorium stage.
"Students should enter the auditorium through the back doors so they will not crowd the stage area," Yearbook Editor in Chief Maddie Smith said.
English teachers Autry, Bayron, Bergmann, May, Raymond, Stevenson, Terry, Whitney and Wilson's class picture date is Wednesday, Sept. 5.
English teachers Capers, Comingore, Hazlewood, Loyd, Moore, Seed and Simmons' class picture date is Thursday, Sept. 6.
Students may wear any blouse or shirt with sleeves on their picture day. Standardized dress must be worn from the waist down, unless it is a spirit day.
"We will use a green screen so that parents can choose their background," photographer Brad Walsh said. "Green clothes should not be worn."
Photo packets will be delivered to English classes a few days before the portrait dates along with a yearbook order form.
"Please send exact change or a check made to B&E Photography to purchase school pictures," yearbook adviser Casi Thedford said. "You may also drop off your yearbook order form for the lowest price of the year, $55 when you have your picture taken. That, too, needs to be the exact amount. We will not be able to make change. Yearbooks may also be ordered with a check made to WEHS Yearbook. Yearbook prices increase on Sept. 15."
Students who know that they will be absent on their assigned picture day need to come to the auditorium stage during Power Hour on the picture day that they will be at school to have their portrait taken.
"If you are a senior, you should have had your senior formals taken over the summer at Burnett Junior High School," Smith said. "If you did not, go see Mrs. Thedford in room 826 as soon as possible or you will not be in the yearbook."
School pictures, yearbook orders coming soon