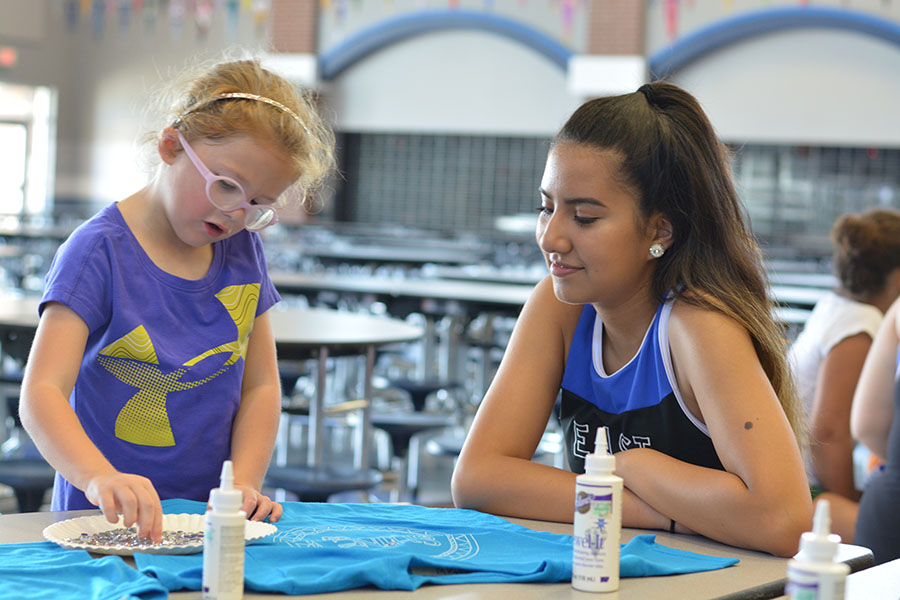 photo credit: Addie Orr
Junior Jewels shine bright at clinic
The Sapphires hosted a clinic for elementary and intermediate school-aged girls Saturday, Sept. 23. The Junior Jewels learned a dance, which they will perform at the football game Thursday, Sept. 28.
The Junior Jewels arrived in the cafeteria to check in and decorate shirts with rhinestones during a "bling party."
"The girls love to go crazy with their decorating," junior Shelby Causey said. "It's a really great time to get to know your jewel and I just love talking with them."
After the bling party, the Sapphires led their Jewel to the competition gym, where they played games such as Little Sally Walker and Ships and Sailors to let the girls loosen up and have fun.
"My favorite part of the clinics are always the games," sophomore sergeant Kaylah Casasola said. "The games always bring out the enthusiastic side of me and the kids."
After a couple of games, it's time to learn the routine. The dance was to a remix of Moana's How Far I'll Go, and was choreographed and taught by the Sapphire Sergeants.
"I loved having the opportunity to teach the Junior Jewels," junior sergeant Emily Wygant said. "It felt rewarding when the dance was done and it looked so good! I can't wait to see it on the field."
Once the routine was finished, it was show time. The Jewels performed the dance in front of their parents, and will perform again this Thursday in front of a football stadium full of people.
"I can't wait to see my girls and dance with them again at the football game," Causey said.
Junior Jewels shine bright at clinic