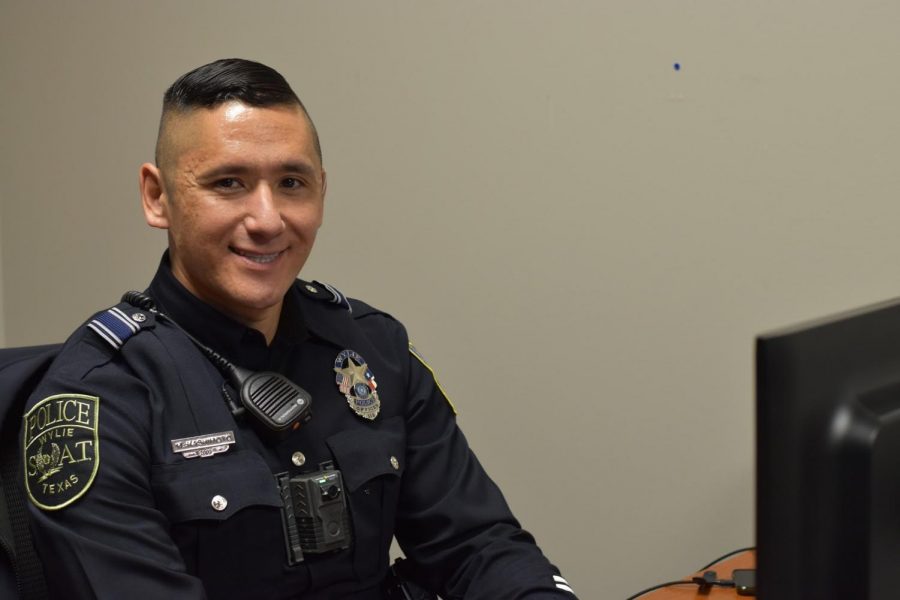 photo credit: Delan Mirza
New SRO in town
Moving from a junior high, Officer Mike Hashimoto is coming to the campus as one of the school resource officers. He has joined the staffulty this school year, and has several kids in Wylie ISD schools.
How long have you worked as an officer in the Wylie Police Department and how long have you been a school resource officer? 
I have been a police officer with Wylie Police Department since 2007 and have been a school resource officer since 2015.
Where have you worked in the past? 
In the past I was in the Marines and was in the infantry. I deployed to Iraq in 2003 in support of Operation Iraqi Freedom. In high school, I was a lifeguard.
How was the transition to this school?
My transition to Wylie East has been great. It took a few days for me to get used to such a large campus. I was previously over a few junior high, intermediate, and several elementary schools.  
What is your favorite part of your job and Wylie East?
My favorite part of the job is having the opportunity to help others who may be going through difficult circumstances in their life. At Wylie East I am so excited to build positive relationships with students and staff. I have really enjoyed seeing all of my previous junior high students become young adults.
What is your favorite thing to do in your off time? 
In my off time I enjoy spending time with family, reading, hiking, working out (crossfit), and cooking.
Who did you want to win in the super bowl?
Honestly, it really didn't matter to me.
Anything else you would like to say?
I am excited to see the senior class graduate this year. They were in seventh grade when I started at Burnett Junior High School. I can't believe how fast time went by. Also, my office is in 108 if anyone needs assistance.
QOTD: 
If you have to get it, what is your go-to fast food order?
In-N-Out: Double Double Animal Style with extra lettuce and extra tomato, fries, and large chocolate shake. I grew up in Southern California so In-N-Out is part of my DNA.