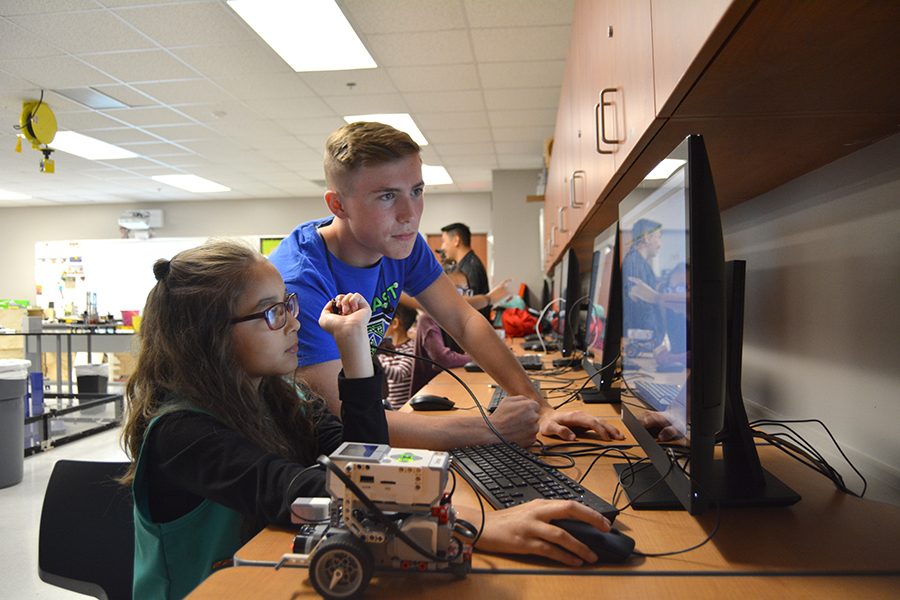 Rylea Thedford, 7th grader at BJHS
In room 428 at Wylie East High School 9 year olds were writing algorithms to operate robots.
The Robotics Team paired with Girl Scout Troop #5412 to lead them through one of the newly released STEM badges Nov. 10. This past summer, Girl Scouts of America released robotics, computer science and engineering badge-earning opportunities for its members. The girls of troop 5412 earned their Programming Robots badge, the first of three robotics badges that Junior Girl Scouts can earn, thanks to the Robotics Team.
"It was so great to see each girl engaged and applying what they had learned," Troop Leader Ronda Sisak said. "Girl Scouts is all about giving the girls new experiences and I know my daughter was introduced to a whole new area of interest."
Dr. Jacob Day, the Robotics Team's coach, kicked off the meeting by teaching the girls about programming.
"I was really impressed at how quickly they caught on and achieved their goal," Dr. Day said. "I was especially pleased to see the enthusiasm the girls had once they got to start programming the robots."
With the guidance of Day's Robotics students, the girls each programmed their own robot using algorithms.
"I thought there was no way these girls could control those robots using that fancy software," Troop Leader Casi Thedford said. "It looked so foreign to me."
The Robotics Team, made up of senior Gissella Martinez and juniors Jaxson Hill, Alex Lomar and Landry Norris, helped the girls apply the basics of programming to complete a task with their individual robots.
"I never would have thought my daughter would have liked something like that. I think she was surprised too," Sisak said.
The goal was to create a series of directions to make the robots follow a diamond shape.
"The girls were totally engaged in this meeting," Casi said. "They literally jumped for joy and celebrated when their robot completed its task successfully."
Nine-year-old Tatem Thedford was the first to get her robot to follow the diamond-shaped path.
"Making the robots, like programming it to move and stuff, was exciting," Tatem said. "I want to join the robotics team when I get to high school."
Nine-year Sienna Cook is on the Girl Scout Lego League Robotics team.
"I think this will help me with Lego League, because, at first I didn't know how to program the robot," Cook said. "Now I know that my ideas might not work the first time and that there is always a solution to a problem."
The WEHS Robotics team invited the troop to their first competition Jan. 13 in the gyms at Wylie East.
"The Robotics team not only got my girls excited about programming, but they put on one of our best meetings yet," Casi said.
Girl Scouts of America has a mission to teach girls about Science, Technology, Engineering and Math, STEM. According to girlscouts.org the organization "see[s] STEM as the foundation for a meaningful and successful future."
"We'd like every girl to explore different aspects of STEM every year, so we've developed a unique, 'fun with purpose' K–12 curriculum to inspire girls to embrace and celebrate scientific discovery in their lives."