The real question: Is marching band a sport?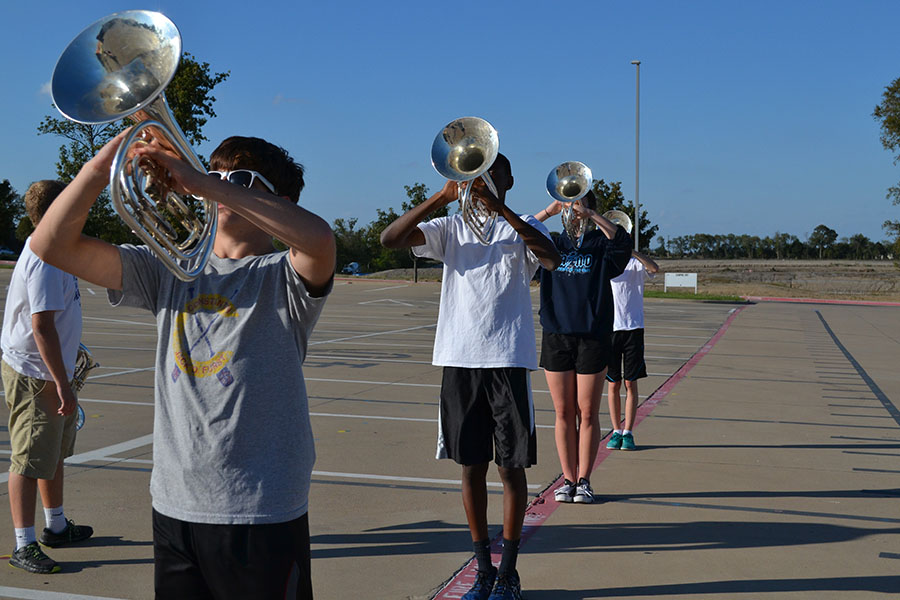 Sweat pouring down their faces, the muscles in their legs aching, their lungs are on fire and the sun in agonizing: Sound's like a sport, doesn't it? Nope. It's marching band.
Society believes that marching band is physically incapable of being a sport, however students who march do more physical activity than you would think. On average, a high school marching show lasts 8-10 minutes. In those eight-10 minutes, musicians march 12 plus miles at speeds up to 180 beats per minute while maintaining perfect horn angles, technique and blowing air through their instruments weighing up to 40 pounds. Not to mention all the music put on the field must be memorized to the point.
When you see Hollywood's interpretation of a marching band, you are watching the complete opposite of the actual activity that takes place in a marching show. Normally the depiction will include a group of 15-30 people marching with knees bending 90 degrees every step, playing their trumpets with bulbous cheeks full of air. The actual depiction of a high school marching band is around 150-200 musicians (or 500 if you're Allen High School) using instruments varying from a clarinet to a mellophone while maintaining a straight-leg technique.
Not acknowledging marching band as a sport is offensive to not only the musicians, but the art. The majority of non-band members underestimate marching band, for they assume the activity is merely something they could do in their sleep; they assume that marching across a 100 foot field in 24 counts is nothing but a mere 'walk in the park.' 2017 Troopers Drum and Bugle Corps alumni McKinley Bennett thinks otherwise. "A lot of people have asked me how much it takes to be in drum corps, and I tell them all the same answer: stamina. We rehearse (our show) 90 percent of the time, the other 10 percent being socializing time. During then, we work constantly and put about 30 sets on the field each day," Bennett said.
Some say marching band is 'irrelevant' and 'unentertaining' at a football game though it may be even more entertaining that the game itself! For example, say the score is 34-35; there's only 10 seconds left on the clock for all star quarterback John Doe to kick the field goal. You feel the drumline vibrating beneath your feet and hear music building up to your left. And… it's good! The band plays out the fight song as loud as possible and light the crowd on fire. Believe me now?
In summation there is no real difference between your normal 'ol football team and a marching band. Well there are the uniforms, the lack of balls and the way the sport works. Okay, so there is a difference, but in their work ethic, motivation or physical exertion? No. Though very different, both football and marching band work towards the same goal: starting and finishing strong. The fact that football and marching band work distinctly unalike is not a legitimate reason of calling either not a sport. So, the next time someone asks your opinion on the matter, I advise you pull out your pocket Webster's dictionary and leave them with the definition of sport. Trust me, they'll stare at you and try to come up with a comeback to eventually end up with nothing.

Loading ...
About the Contributor
Liz Harkins, Copy Editor
As a senior involved in a multitude of school organizations, my life can get pretty hectic. *wow love a dramatic intro* I love dogs, meme subreddits, Spongebob...