Student-run spirit shop makes official debut
Hang on for a minute...we're trying to find some more stories you might like.
The Wylie Way Spirit Shop hosted its grand opening and began its journey on the path of business as community figures watched Sept. 21. The shop's concept is that it's 100 percent student-run. Students create and design shirts for the public. Anybody can go and get whatever shirt they desire customized. They also sell bath bombs, jackets, chargers and several other essentials.
"I wrote the business plan about this over four and a half years ago and I wanted students to have a practical hands on opportunity to practice business," BPA sponsor Mr. James Hood said.
"
I want to give the students something that they can take pride and ownership in creating a product that they see other people wearing."
— Mr. Hood, BPA sponsor
Hood has taught at this school for five years and decided to put this plan in motion after his first year of teaching. He teaches the school's practicum in business management class. The shop is located in the front of the school connected to the library and is open from 8- 9 a.m., during the school's lunch hours, and after school on Thursdays to get custom shirts before games.
"It's a lot different from a school club or group," senior Cali McCulloch said. "We are actually dealing with real customers who have real expectations for our work."
Students use an embroidery machine, vinyl cutter and direct garment printer, to efficiently create their designs for ongoing orders. This helps with high demand and creating shirts by the numbers.
"The biggest problem we have is organization," McCulloch said. "We have tons of orders coming in, especially shirts."
Seniors Ezra Martinez and McCulloch are the store managers. They both were in Mr. Hood's practicum class since their sophomore years. They went through an interview process to gain their position, just like a real job.
"I just joined this class this year, and I'm already enjoying the amount of fun we get to have doing what we love," junior Quincy Jackson said.
Students work nearly every day producing and creating more products for the community. It gives the students more time to focus on their career path and how a business runs.
"I want to give the students something that they can take pride and ownership in creating a product that they see other people wearing," Mr. Hood said. "That's really the focus of it all."

About the Writer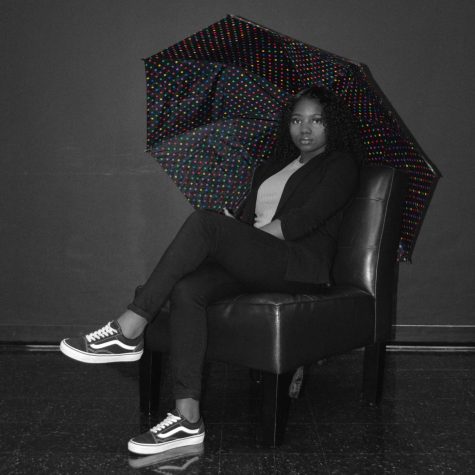 Ashley Survillion, Assistant Editor
Whimsical, quiet and observant. I'm not sure those three words describe me entirely, considering the fact that almost every weird word in the Webster dictionary relates to me, but here you are, reading a short snippet of my life as Ashley Survillion. It normally consists of writing, food and more writing with maybe a sprinkle...