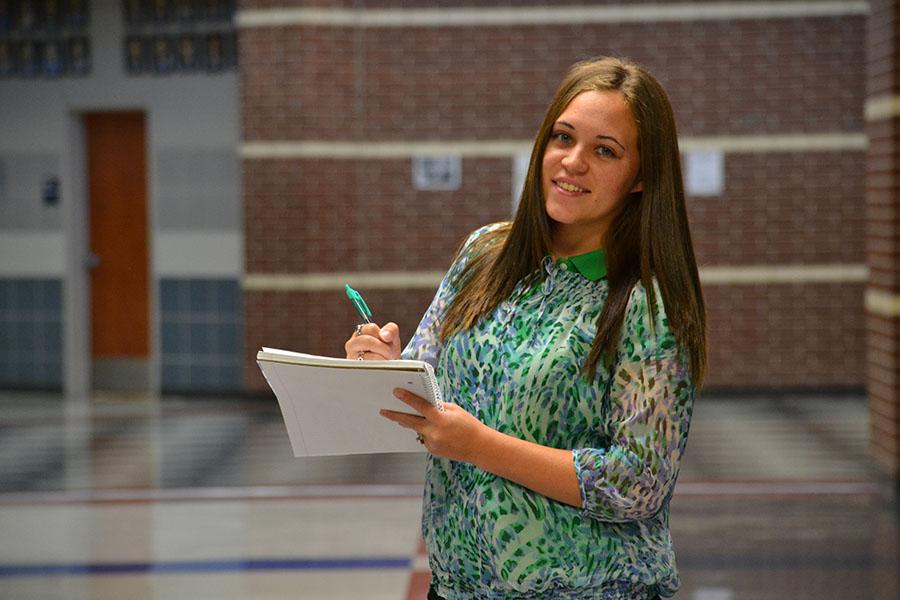 Hi, my name is Taylor Veracruz. I am a senior and this is my second year in Newspaper. My goal this year for newspaper is to improve my writing skills and contribute to the Newspaper team.
Besides these two classes, I am also a varsity cheerleader. I have cheered for nine years and this is my tenth. I enjoy school cheer because I love supporting the boys and keeping school spirit alive.
Something interesting about me is my love for drag racing. I have been around racing since I was born. My dad started racing when he was only 16 years old. This is something my whole family does together, when my dad goes, we all go. This is one of my favorite hobbies because I love being with my family, the drag racing environment and the rush I get when watching my dad race down the track.
My plan after high school is to go to Tarleton or Texas Woman's University to become a Pediatric Oncology Nurse.
Taylor Veracruz, Staff Reporter
May 29, 2015

Seniors visit elementary schools

(Media)

May 26, 2015

Christensen awarded 5A soccer coach of the year

(Story)

Apr 08, 2015

Athletes advance to Area Track meet

(Story)

Mar 25, 2015

Students intern at Walgreens

(Story)

Mar 20, 2015

Team shows off their skills

(Story)

Feb 13, 2015

Shining in light of talent show

(Story)

Feb 11, 2015

Theatre; band, choir join forces for Seussical

(Story)

Feb 06, 2015

Spanish Honor Society visits SMU, Meadows Museum

(Story)

Dec 19, 2014
Nov 05, 2014

Centennial shuts down varsity volleyball season

(Story)

Oct 23, 2014

Softball earns best homecoming float

(Story)

Oct 23, 2014

Zach Wilson's story

(Story)

Oct 13, 2014

Crosstown Showdown highlights

(Story)

Oct 03, 2014

Rivalry brings load of spirit

(Story)

Sep 24, 2014

Richland student returns back home

(Media)

Sep 18, 2014

Sign up dates for testing announced

(Story)

May 29, 2014

Cheerleaders make it on TV while attending Rangers game

(Story)

May 21, 2014
Mar 31, 2014

Vibrant vigil in honor of Ivan Mejia

(Story)

Mar 18, 2014

Welding students fix school chairs

(Story)

Mar 04, 2014

Texas Connections Academy makes a difference

(Story)

Feb 12, 2014

Singles show love on Valentine's Day

(Story)

Feb 06, 2014

Seniors sign to play at universities

(Story)

Jan 28, 2014

Prized possessions

(Story)

Jan 13, 2014

Studs complete castle

(Story)

Dec 20, 2013

Christmas time is becoming even jollier

(Story)

Dec 13, 2013

Newspaper staff comes together to brighten day of student

(Story)

Oct 25, 2013

Raider journalists go on to be successful

(Story)

Oct 24, 2013

Get active with Red Ribbon week

(Story)

Oct 04, 2013

Exciting events of homecoming week

(Story)

Sep 24, 2013

FFA to hold CHL fundraiser

(Story)

Sep 17, 2013

The Pride of East holds annual marchathon

(Story)

Sep 10, 2013
Aug 26, 2013

First day of school brings change

(Story)