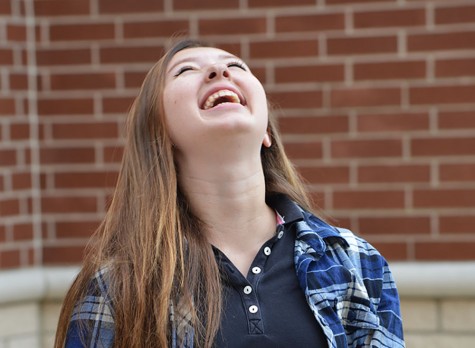 Welcome to my Bio!  Kailee is the name, newspaper is the game. I'm 18 and a senior. This is my second year on the newspaper staff. I fell in love with journalism and newspaper as soon as I stepped into Theddy's class. I'm pretty weird, but that's okay, I think.
Basically any type of rock you can think of, I can dig it, but I will listen to anything.
I'm with the band; I play the French Horn in the Wind Symphony band. I absolutely love everything about music. I love to listen to it, read it, write it, play it, etc.
I also absolutely love writing (duh) and I particularly like to write editorials and sports stories. I love to dance!
I LOVE CATS (and all animals). I may seem quiet (keyword seem) but as soon as you know me well enough, you'll know that I'm absolutely crazy and fun and ready to throw myself at any opportunity to make someone smile. I'm very strong-minded, opinionated and stand with my beliefs. I believe that with positivity you can succeed in anything. Enjoy our newspaper website, we have a great staff who works really hard! I'm very excited for what this year is going to bring!
Kailee Zercher, News & Features Editor
May 10, 2016

Jacob Matassa is Big Man on Campus

(Story)

Apr 28, 2016

Nothing bundt delicious

(Story/Media)

Feb 22, 2016

New State records for wrestling team

(Story/Media)

Feb 09, 2016

Nine wrestlers advance to Regionals

(Story)

Feb 01, 2016

Conquering Coyote territory

(Story/Media)

Feb 01, 2016

BPA wins top honors

(Story)

Dec 03, 2015

Sacrifice leads to perseverance leads to Victory

(Story/Media)

Nov 02, 2015

Haunting at Thrillvania

(Story/Media)

Oct 20, 2015

There's no place like East: Hallway decor covers walls Hoco week

(Story/Media)

Oct 19, 2015

Band goes to Area

(Story)

Oct 09, 2015

Trombone section's got moves

(Story)

Sep 29, 2015

Cross town pep rally held in morning

(Story)

Sep 24, 2015

Wear pink for Cammie Friday

(Story)

Sep 23, 2015

'Straight Outta Wylie East': The Raider Revolution

(Story)

Sep 07, 2015

Vote for Eno to win player of week

(Story)

Jun 27, 2015

Support the Tyler Lanier recovery fundraiser

(Story)

May 22, 2015
May 11, 2015

Becoming a leader

(Story)

May 06, 2015

Band students audition for leadership roles

(Story)

Apr 24, 2015

Five girls advance to Regionals in track

(Story)

Mar 23, 2015

Top band goes to Indianapolis

(Story)

Mar 23, 2015

Lifting off at State

(Story)

Feb 23, 2015

Wrestling at State

(Story/Media)

Feb 17, 2015
Feb 17, 2015

Wrestling prepares for state

(Story)

Oct 02, 2014

Wylie East Band leaves home

(Story)

Aug 17, 2014

Gov. Rick Perry speaking about finding  'cure' for gay rights is ludicrous

(Story)