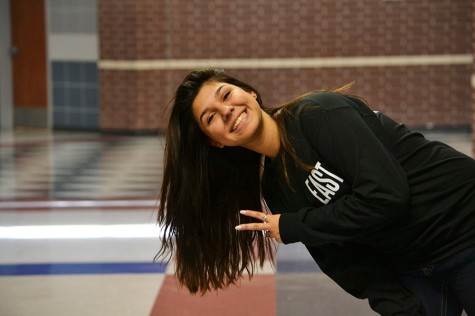 Hello, I'm Andrea Coca! (I'm not really a "hey" type of girl) Btw I don't mind being called Drea or Coca I actually prefer those, but not "Andrea Coca-Cola" that's not allowed haha. I'm a junior and I have this thing where in all my biographies I say "No, I am not Mexican" because everyone thinks I am haha. My dad is Spaniard and my ma is Peruvian, so I get where you could get confused there.
I'm from New York, born and partially raised there. I moved to Wylie in sixth grade and it was a huge change for me. I went from the cold and windy North to the hot and humid South, and it was a difficulty to adjust and not melt.
I would like to become a teacher or work with children with disabilities. This is my first year on the newspaper staff and I love it. I had journalism and photojournalism as my back up classes when I made my schedule my sophomore year and coming into junior year I was not very excited to see them on the schedule. Once I got into the classes I fell in love with writing. I never knew that I would enjoy writing so much in my life. I'm very grateful to get this experience.
Andrea Coca, Staff Reporter
Jun 03, 2015

Blood drive sets record

(Story)

May 28, 2015

400 hallway floods

(Story/Media)

May 27, 2015

With immigration comes difficulties: racism, rude comments and stereotypes

(Story)

Apr 27, 2015

Junior wins chance to meet Ariana Grande backstage

(Story)

Mar 06, 2015

Snoozing on manners

(Story)

Feb 04, 2015

Growing with grit

(Story)

Jan 20, 2015

Honorary feast for honorary students

(Story)

Nov 14, 2014
Oct 27, 2014

Students find ways to overcome burdens

(Media)

Oct 07, 2014

Full out blue out

(Story)

Oct 01, 2014

Tennis serves it up

(Media)