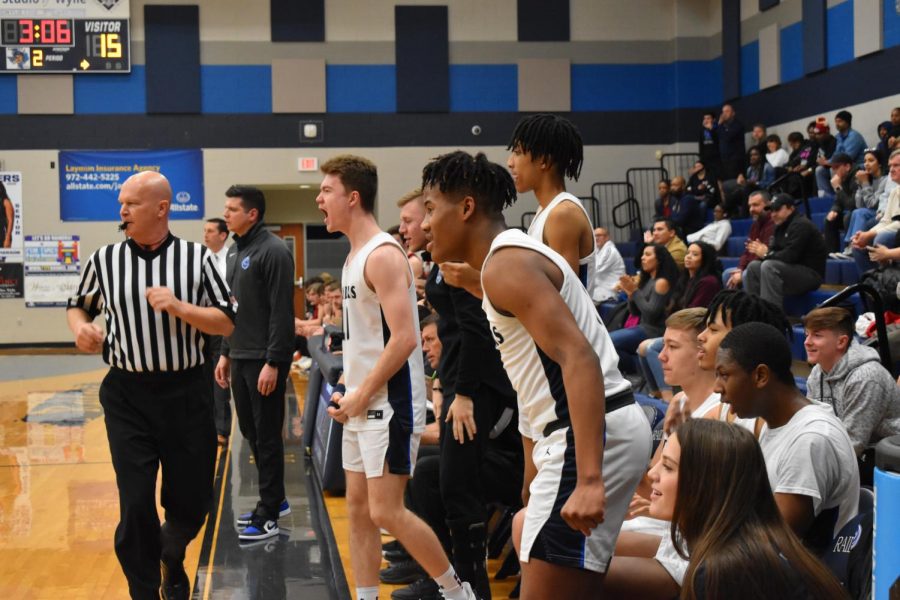 Lauren Vasquez
Head basketball coach Micah Moore and the boys varsity basketball team won their spot in playoffs against the Lovejoy Leopards with a score of 52-43 Feb 14.
It's been five years since the basketball team advanced to the playoffs, back in 2014.
"I'm excited for the opportunity to improve ourselves more this season," senior Ross Joseph said. "We worked hard all season for this."
Playing against Lovejoy, the team knew what was at stake. Although they would have another shot at playoffs if they were to lose the game, they didn't want to take any chances.
The team's solid defense and resolve is what lead to their victory. Senior Jonathan Moghen finished the game with three three-pointers, totaling nine points.
"I'm really proud of my performance considering my 3-pointers," Moghen said. "I'm looking forward to playing another game with my fellow teammates."
Although advancing to playoffs served as a big accomplishment for the team. They know the season is not over.
"We plan to make history and get past the first round of playoffs," Colburn said. "Then make the best of our playoff run."
The team will play at their bi-district game against Frisco Wakeland Feb. 24 at 7:00pm at McKinney Boyd High School.
"I hope to win this game," Moghen said. "Not only will we be on a good track in playoffs but it'll be the school's first playoff win in history."