Tackling stereotypes
Girls play on freshman football team
For the first time in its 11 years, the school has females playing on the football team.
Freshman Kylie Scritchfield is a linebacker and freshman Zoe Harbison is a kicker on the freshman white team.
"People get extremely shocked when they find out that Kylie and I play," said Harbison. "When we walk together and talk on the base of the fields before the game, parents and the opponents get surprised."
"
It honestly feels like an adrenaline rush when I go out on the field,"
— Zoe Harbison, freshman
Walking onto the field every Thursday evening is a moment of empowerment for Harbison and Scritchfield. It may seem as though these girls aren't the ones to play rough, but all bets are off when it's kick off time: especially when the opposing coach has to tell his players that they just got served by a girl
"When my mom was younger, she actually wanted to play football for her school but they wouldn't let her play because she was a girl," said Scritchfield. "My mom has always supported me. Playing football just motivated me to work my butt off even more."
Whether it was playing on the field with their junior high team or playing outside with friends, these girls began building their love for football at an early age. During the summer of 2018, the male athletes were taken by surprise when the two girls walked into the gyms for strength and conditioning.
"It was a little bit awkward because I really only talked to one person who was in there," said Scritchfield. "It was also awkward because everyone was staring at me and the idea of me being one of the only girls there inside with a bunch a guys made me nervous."
With two different genders, comes two different locker rooms. The separation from the rest of their team during this valuable team-bonding time, makes things a little difficult for both Harbison and Scritchfield. It tends to be when important information such as details on clothing, bus numbers for games and game day schedules are discussed.
"The girls have a massive responsibility to come and check in with us [coaches] after we come out of the guys locker room," said freshman football Coach BJ Smith.
Every football player has a moment in a game where he or she experiences something which motivates him or her to improve.
"It honestly feels like an adrenaline rush when I go out on the field," said Harbison. "What really gets to me is the excitement of the crowd because it can be overwhelming but at the same time it really gets your blood pumping."
Although their decisions of pursuing football through college is uncertain as of right now, one thing that will not change is the feeling of representing girls in sports.
"Girls have a strength that not many either understand or are aware of," said Scritchfield. "Some people only see us as soft and weak, but I think little girls should have the freedom to not only be on a guy's team, but to also have the freedom to join whatever they want to be apart of. Life is really too short to care about what people think about you."
About the Contributors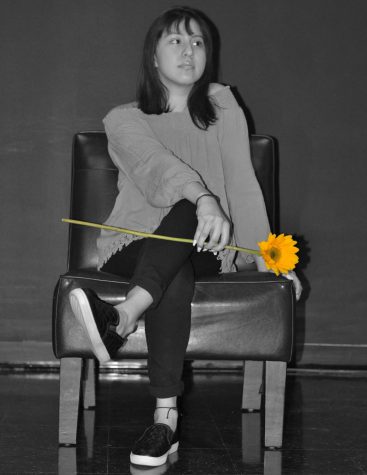 Valeria Herrera, Staff Reporter
WOO! Sen19r year is finally here!

My name is Vale and this is my second and sadly last year on staff. I like to see things in a positive way rather...
Katie Borchetta, Staff Reporter
Hey there! My name is Katie Borchetta. I am currently a senior and this is my second year being a part of this newspaper staff. I like to think that I...