Varsity female track team sets school record
Hang on for a minute...we're trying to find some more stories you might like.
Senior Katyleen Crew has her hands full in track. Competing in five events, Crew is one of the most versatile members of the varsity team.

"I compete in the 4×100, 4×200 and 4×400 relay and the 400m and 200m race," Crew said. "I just kind of choose the races that seem natural to me."

Crew got into track in middle school competing as part of the seventh and eighth grade teams.

"The coaches I've had over the years have been a huge influence on my life," Crew said. "They and the other athletes push me to become better at all my events."

Comprised of Crew, Destini Jeter, Madison Dorothy and Laterrica Thomas, the 4×200 varsity female team set a school record this year at the Mike Williams Invitational. Their record of 1:14.5 beat the previous record of 1:43.07 set back in 2014 by Kylie Nodorft, E'lexus Garvin, K'Cianna Holley and Amira Coleman.

"I've always been very competitive," Crew said. "It's just in me to do the best I can and to try and succeed.

About the Photographer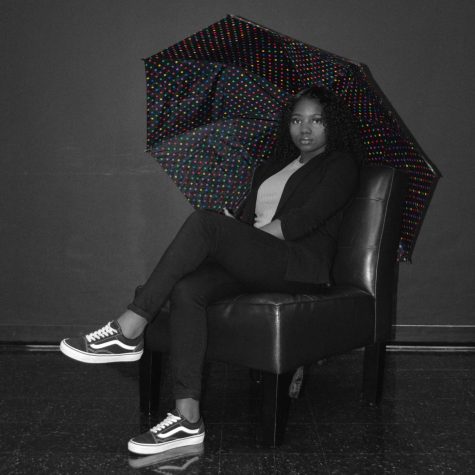 Ashley Survillion, Assistant Editor
Whimsical, quiet and observant. I'm not sure those three words describe me entirely, considering the fact that almost every weird word in the Webster dictionary relates to me, but here you are, reading a short snippet of my life as Ashley Survillion. It normally consists of writing, food and more writing with maybe a sprinkle of spontaneous adventures. My journey in Journalism began in my fifth grade year when I was the only one to receive a six on my writing assessment. I started to feel a natural thrill in seeing the facial expressions of others while they read my work and it compelled me to do more within the field of writing. Immediately, I began the Creative Writing program where I gained more appreciation towards the art of literature and its contribution in our lives today. In my seventh grade year, I won first place in a Kroger competition and received a mini iPad as an award. Following that, my eighth grade year I wrote a fictional short story and earned a scholarship to attend a camp at Ole Miss during the summer. This is my third year being a Raider and I'm going to enjoy it even more as your assistant editor. I'm now a senior and I'm excited to finish off my last year of high school capturing these spectacular moments with everyone.