Nothing bundt delicious
Go try tasty new sweet treat shop
Hang on for a minute...we're trying to find some more stories you might like.
The magic of Nothing Bundt Cakes began in 1997 when founders Dena Tripp and Debbie Shwetz joined together to make outstanding bundt cakes for their friends and family.
Walking through the door, your nose is immediately filled with the wonderful smells of cake and frosting. You look around and you're surrounded by color and magnificent dessert masterpieces. The workers are very friendly and provide suggestions and advice if you're having trouble choosing a cake.
"
I take my little brothers all the time after they get out of school most Fridays to enjoy a nice little treat."
— Kailee Zercher
The store is very family friendly. I take my little brothers all the time after they get out of school most Fridays to enjoy a nice little treat. The Bundtinis, the smallest of the cakes, which you order in boxes of 12, are $18.50. They typically let you choose as many of your own flavors as you please for your box. The "medium-sized" cakes are the Bundtlets.These come in their own container and are about the size of three Bundtinis. You can choose any flavor Bundtlet you please for just $3.99. The next of the sizes is the largest cakes, which are the full sized Bundt Cakes. The store will decorate your cake for any occasion in any flavor and size you want- including birthdays, anniversaries, holidays, thank yous, or celebrations of any sort. Order your cake with any color paper mache flower you desire and they will provide you with your creation. The larger cakes are priced at eight inch diameter that serves eight for $21 and 10 inch diameter that serves 18 for $31. The tiered cakes are the largeest cakes and serve up to 26 for about $65.00.
With a wide variety of flavors, it's easy to find a cake you like. The flavors include: Chocolate Turtle, Red Velvet, Chocolate Chocolate Chips, Lemon, Marble, Pecan Praline, Carrot, White White Chocolate, Cinnamon Swirl and White Chocolate Raspberry.
All time favorite flavors include the Red Velvet and the Chocolate Chocolate chip flavors. My personal favorite is the Carrot cake flavor.
It doesn't have to be a special occasion to stop by Nothing Bundt Cakes right off of FM 544 in suite #102. Go by and get your delectable treat today!

About the Contributor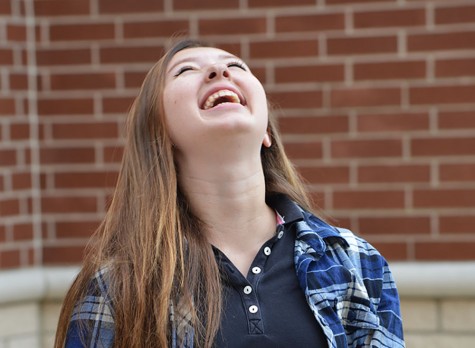 Kailee Zercher, News & Features Editor
Welcome to my Bio!  Kailee is the name, newspaper is the game. I'm 18 and a senior. This is my second year on the newspaper staff. I fell in love with journalism and newspaper as soon as I stepped into Theddy's class. I'm pretty weird, but that's okay, I think.
Basically any type of rock you can think of, I can dig it, but I will listen to anything.
I'm with the band; I play the French Horn in the Wind Symphony band. I absolutely love everything about music. I love to listen to it, read it, write it, play it, etc.
I also absolutely love writing (duh) and I particularly like to write editorials and sports stories. I love to dance!
I LOVE CATS (and all animals). I may seem quiet (keyword seem) but as soon as you know me well enough, you'll know that I'm absolutely crazy and fun and ready to throw myself at any opportunity to make someone smile. I'm very strong-minded, opinionated and stand with my beliefs. I believe that with positivity you can succeed in anything. Enjoy our newspaper website, we have a great staff who works really hard! I'm very excited for what this year is going to bring!